Wet'suwet'en Hereditary Chiefs met with RBC on February 25 to demand the bank end its financing of the Coastal Gaslink pipeline. On April 7, they travelled to Toronto to attend RBC's AGM and raise their concerns with shareholders about the banks ongoing financing of the Coastal Gaslink Pipeline.
However, the bank cancelled the in-person meeting at the last minute, denying the Chiefs an opportunity to speak directly to company executives and shareholders. The meeting was moved online where the Hereditary Chiefs tried to get some answers from CEO David McKay.
Watch the short video of the Hereditary Chiefs speaking to supporters outside RBC's Toronto office on after the AGM.
Even Hollywood stars are taking action: celebrities such as Mark Ruffalo recently came together and launched a letter calling on RBC to stop funding fossil fuels like the Coastal Gaslink pipeline through Wet'suwet'en territory.
Check out their new online action>>>No More Dirty Banks.
RBC also rejected a shareholder resolution by Investors for Paris Compliance calling for it to end its financing of fossil fuel expansion. Since 2016, RBC has financed coal, oil sands, oil and gas projects to the tune of $236 billion CAD. RBC is currently the world's fifth largest fossil fuel funding bank and the biggest fossil fuel funder in Canada. Other banks, like TD and Scotiabank, also faced shareholder resolutions regarding climate change.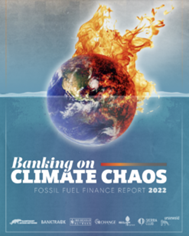 In a climate crisis you can have human rights, or you can have fossil fuels. We can no longer have both.
To learn more about how Canadian banks are financing fossil fuel expansion, read Banking on Climate Chaos: the fossil fuel finance report of 2022.
Amnesty International has endorsed the report.
Take Action
Call on RBC to stop funding fossil fuel projects like pipelines, coal, and fracking such as RBC's financing of the Coastal Gaslink Pipeline. Sign Stand.Earth's petition: Tell RBC's CEO to Defund Coastal Gaslink.
Read Amnesty's public statement>> Urgent fossil fuel phase out critical to protect rights