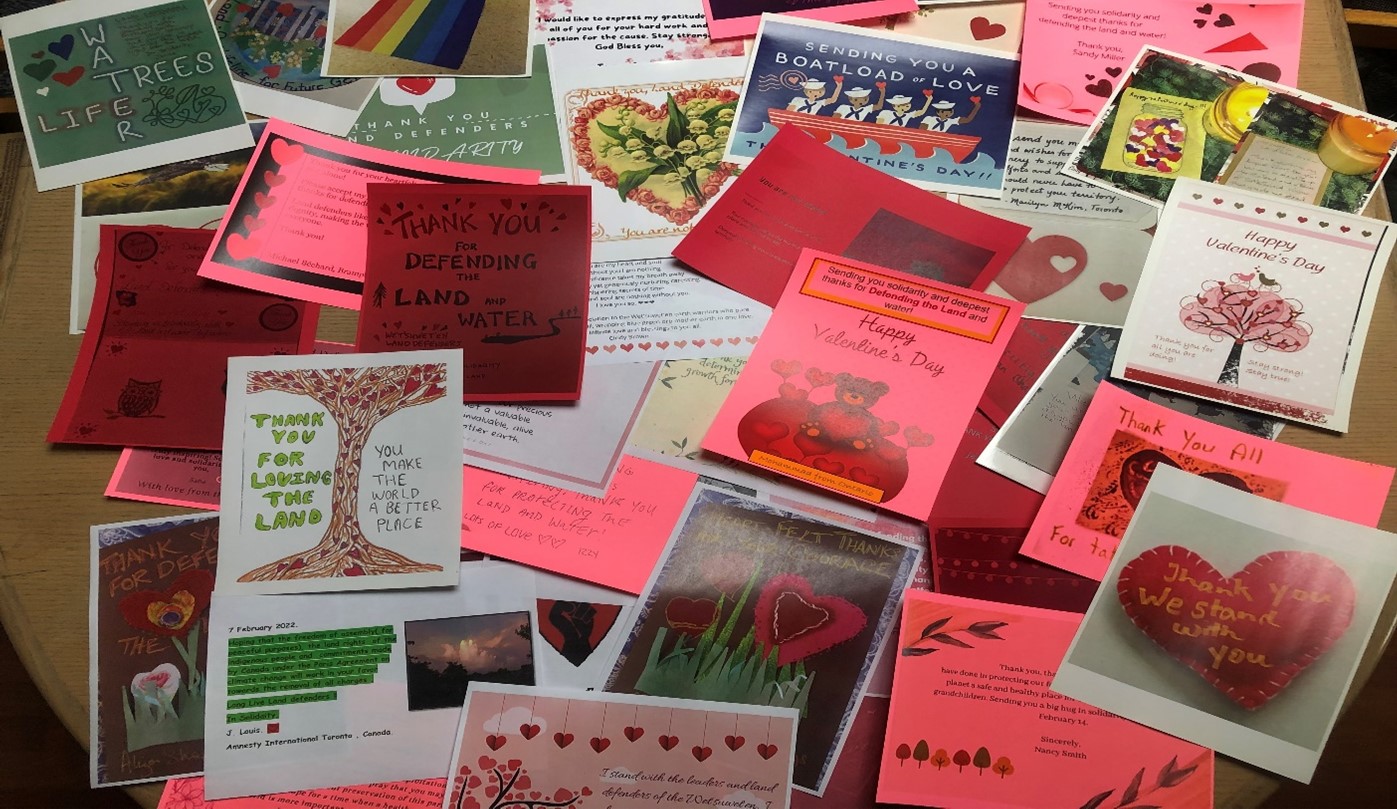 Hundreds of Amnesty members and supporters showed their love and solidarity with Wet'suwet'en land and water defenders this February: you sent over 500 Valentine messages of solidarity and gratitude to land defenders at Gidimt'en Checkpoint!
Messages came from members and supporters, schools, community groups, and Indigenous communities. In addition to the beautiful artwork and poetry people created, we received countless personal emails from people across Canada and around the world who were grateful to have an opportunity to show their love and care to courageous land and water defenders in Wet'suwet'en territory.
In a very short time – a matter of days – you showed your care. Thank you! We will soon share photos of your messages being delivered to Gidimt'en Checkpoint.
The action is now closed but you can still add your voice. If you haven't already done so, please send a letter to British Columbia Premier John Horgan: you can write your own letter or sign the online action.
Court Update:
Procedural hearings were held for a small group of defenders in Smithers and a larger group of defenders in Prince George on February 14. The defenders were charged in November 2021 with violating an injunction obtained by Coastal Gaslink (CGL), a subsidiary of TC Energy. During this hearing, defenders and their supporters hoped to learn if Coastal Gaslink would pursue criminal charges against them. Instead, the company asked for a month-long adjournment and is expected to be back in BC Court in March with its decision.
If CGL wishes to pursue criminal charges against those arrested in November, it must ask BC's Attorney General to do so, at which time the BC Prosecution Service would take responsibility for moving the case forward. In the past, the AG has declined to press criminal charges against Wet'suwet'en land defenders.

Coastal Gaslink's lawyer, Kevin O'Callaghan, said the company would decide by March 11 if it will seek criminal charges. A brief court appearance has been set for March to determine a date for a future hearing should CGL request the AG pursue criminal charges.
The defenders must abide by their bail conditions which prohibit those charged from being allowed to go into the territory or yintah or engaging in further protest.
Ways to Take Action:
Please write a letter or sign the online action.
Also, remember to use social media: share your message to Premier John Horgan and to federal Minister of Public Safety, Mark Mendicino. Remember to tag them @jjhorgan and @marcomendicino
Stop banks' financing of fossil fuel projects: In a climate crisis, you can have human rights or you can have fossil fuels. We can no longer have both. Learn more about how Canadian banks are funding fossil fuel projects like pipelines, coal, and fracking. RBC is one of the largest investors and funders of fossil fuel projects (including coal and gas). Do you have financial products – like a mortgage, RRSP, or bank account with RBC? Or any major Canadian bank? If so, please check out these excellent resources and join a local divestment campaign. Tell your financial institution that there is too much at stake for it to continue to prop up the fossil fuel industry.
We asked, you responded: Thank you
I have heard from defenders on the ground who told me they were deeply touched by your Valentines. "They are beautiful," a community leader told me. Thank you for your thoughtfulness, your care and for showing up in solidarity with courageous land defenders. The risks they face are not over and I invite you to stay engaged, deepen your involvement and activism, and continue to show your solidarity.
You can learn more and sign up to stay on top of the latest news and actions below.