The urgency of upholding the rights of women and girls has never waned, and this is continues to be the reality for women and girls around the world. Gender-based violence is one of the worst societal ills, and prevalent instances of sexual violence, misogyny, transphobia, and rampant rates of violence all point to gender-based violence being an endemic.
This kind of violence takes more forms than only physical, and its effects can be cerebral and have both immediate and long-term detrimental impacts on social, political, and economic rights, all which contribute to the failure of fully upholding the lives of women and girls. We've seen this manifest in the worst forms of domestic violence against women like Sania Khan and Mandeep Kaur, the recent doxxing, swatting, and unjust arrest at gunpoint of Clara Sorrenti, and horrifying incidents of sexual violence against women and girls during conflict in Ethiopia.
In the global context, this is true for Afghan women and girls who, for over one year have collectively experienced some of the greatest degrees of violence. The detrimental ban on schools for girls will have long-term consequences but is not the only pressing issue for Afghans, who are suffering from both a political and humanitarian crisis under the rule of the Taliban. Mass hunger, economic precarity, brain drain, reprisals for protests, and the removal of legal protections for women are only some of the many issues making up the reality of living conditions for millions in the country. Since August 2021, the Taliban have issued 28 verdicts and decrees that abuse the livelihoods of women and girls, and these are each verdicts and decrees that must be undone for the full restoration of their rights.
Act Now to Support Afghans in Need and Show Your Solidarity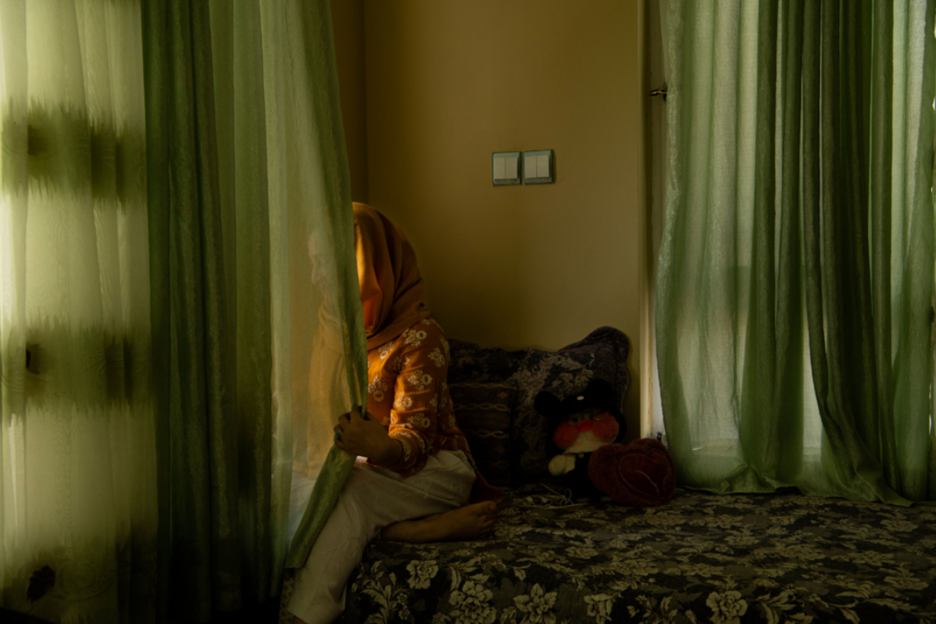 Support the Aid for Afghanistan campaign: Canadian aid organizations have jointly launched Aid for Afghanistan, a national campaign calling on the Government of Canada to immediately act to remove barriers that have blocked and deterred the provision of lifesaving humanitarian assistance to Afghanistan for the past year. Add your name to this petition and ask those in your communities to support this urgent campaign.
Write to Hon. Harjit Sajjan, Minister of International Development to urgently act on providing greater transparency and accountability on how Canada's humanitarian aid will directly benefit women and girls and to call for all diplomatic engagement with Afghanistan's de facto leaders to include demands for restoring the rights and freedoms for women, including re-opening schools for girls.
Social media solidarity action: Show your solidarity with Afghan women and girls. Twitter is one of the most frequently used social media platforms in Afghanistan. It is widely accessed by women and girls in the country, although many do not post messages on it that could be perceived as being critical of the Taliban, for fear of retaliation. Send them message of solidarity on social media using the hashtag #YourRightsAreOurRights.
---
MMIWG2S and Sisters in Spirit Vigils
Since the release of the 2021 Nation Action Plan: Ending Violence Against Indigenous Women, Girls and 2SLGBTQQIA+ People, Indigenous partners and jurisdictions at the provincial, territorial, and federal levels have been working on the implementation plans for the different chapters of the NAP. In June 2022, together they produced a NAP Progress Report that monitored the implementation, challenges in the process and recommendations for the ongoing work.
While this process continues, incidents of MMIWG2S keep happening, and investigations have been fraught with discrimination and negligence. The disappearances and deaths of Tatyanna Harrison, Chelsea Poorman, and Noelle 'Ellie' O'Soup are evidence of this, and greater accountability from police forces are an ongoing demand. Survivors and their families need to be supported.
Attend a Sisters in Spirit vigil on October 4th (search online for vigils organized in your city). Information about the annual Families of Sisters in Spirit vigil in Ottawa is here.
Support Lindsey's journey as she raises awareness of MMIWG2S in honour of her sister Megan.
Support advocacy initiatives led by Indigenous women, girls, and Two Spirit activists. This could be an honouring or commemoration project, a fundraiser, a call for policy or legal reform, an October 4th Sisters in Spirit vigil, or whatever actions and campaigns grassroots activists have prioritized. Support family members and loved ones of missing and murdered Indigenous women, girls, and Two Spirit people in meeting their evolving and self-identified needs, whether that is helping to distribute missing person signs, supporting logistical preparations for a vigil, or providing online support.
Review our No More Stolen Sisters Campaign Guide for more ways to support Indigenous-led local activism.
---
Abortion Rights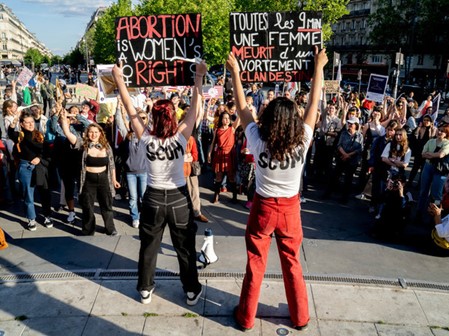 This summer, the overturning of Roe V. Wade ended federal protections for abortion rights in the United States, reversing nearly 50 years of essential protections of the rights of women, girls, and those who can become pregnant. Many US states moved swiftly to implement standing or new laws to ban or severely curtain abortion. As of August 2022, abortion is totally or near-totally banned in 17 states with more coming; in total, abortion is under serious threat in 26 of 50 states. States are also moving rapidly to impose travel bans and to criminalize "aiding" abortion. Some have already started the prosecution of those who have sought abortion.
The political and grassroots resistance to this overturning, both in the US and globally, has been significant, with massive protests taking place and with activists mobilizing both online and offline. The implications of the ruling in the US could affect countries in the region and the world, with other countries taking being influenced by the US to regress on abortion rights, or to justify their already-repressive policies.
CONTINUE THE RESISTANCE
Mark International Safe Abortion Day on September 28th by posting on Twitter and tag @GovernorVA for an international display of solidarity and retweet this global solidarity video.
Online Actions:

Write a message to state governors to stop the abortion bans and protect the right to abortion care.
Send activist letters to President Biden (template here) and mail your letters to: Amnesty International USA, ATTN: Tarah Demant, 600 Pennsylvania Ave, SE, 5th Floor, Washington DC, 20003.
Sign this petition calling for the end of censorship of abortion-related content on social media platforms such as Facebook and Instagram.
---
SUPPORT WOMEN'S RIGHTS ACTIVIST SALMA AL-SHEHAB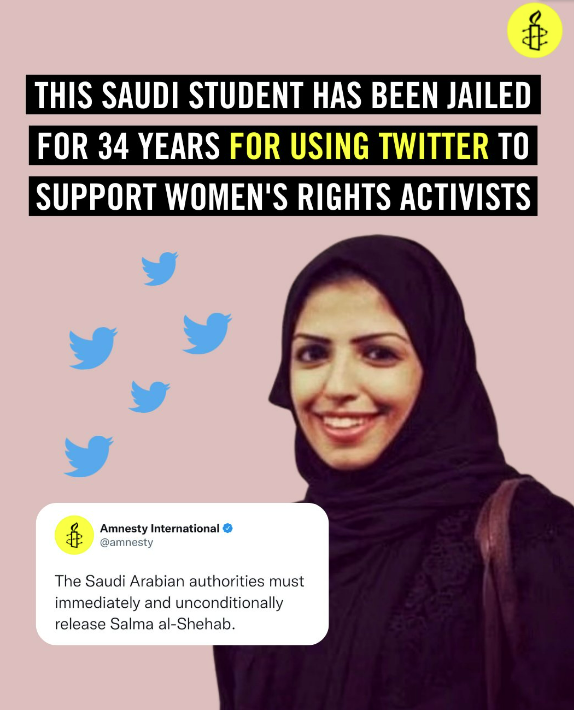 Protests have always been a powerful tool for change. But governments around the world are cracking down on all forms of protests and those who engage in them. On 9 August, the Specialized Criminal Court in Riyadh, Saudi Arabia, sentenced Salma al-Shehab, a Saudi activist and student to 34 years in prison with a consecutive 34-year travel ban. She was accused, among other things, to "disturbing public order" simply for using Twitter and retweeting activists who support women's rights. In addition to a grossly unfair trial, she was detained in solitary confinement for 285 days before she was brought to court. She was also denied access to legal representation throughout her pre-trial detention, including during interrogations. The Saudi authorities must immediately and unconditionally release Salma al-Shehab and quash her conviction. Digital spaces like social media are increasingly becoming more accessible and necessary platforms for protestors to engage in their activism and political discourse, and for civil society to further their messages. The crackdown on those with visible profiles and notable activity are targeted, and this has become a newer form of violence and suppression of rights. A prevailing fear of reprisals deters people from speaking out about these cases on social media or with the media.
Write to the King urging him to:
Immediately and unconditionally release Salma al-Shehab and quash her conviction as she is being held solely for peacefully exercising her right to freedom of expression
Stop equating free speech with "terrorism", and repeal or substantially amend the counterterrorism and anti-cybercrime laws that criminalize dissent and enact new laws that are fully compatible with international human rights law and standards
Write to:
King Salman bin Abdul Aziz Al Saud
Office of His Majesty the King
Royal Court, Riyadh
Kingdom of Saudi Arabia
Phone: 011 966 111 488 2222
Fax: 011 961 11 403 3125 (please keep trying)
Twitter: @KingSalman
Salutation: Your Majesty King Salman bin Abdul Aziz Al Saud:
And Copy:
Mr. Abdulaziz Mohammed H. Albadi
Chargé d'affaires
Royal Embassy of Saudi Arabia
201 Sussex Drive
Ottawa, ON K1N 1K6
Fax: 613 237 0567
Email:  caemb@mofa.gov.sa