There is a crisis of extreme gravity in the South American country of Peru – so grave, in fact, that Amnesty has deployed a specialized continental crisis response team to investigate serious human rights violations and possible crimes under international law committed in the context of the wave of protests that began last December.
The context: Why are people protesting?
Thousands of people have taken to the streets in Lima, the capital, as well as other cities across Peru in a wave of protests ignited by the arrest of then-President Pedro Castillo on December 7 on charges of rebellion. The backdrop is a prolonged crisis of democracy in which Peruvians have seen six Presidents come and go in the past five years, unable to complete their elected terms.
The government, now led by former Vice President Dina Boluarte, says that Castillo planned a coup d'etat by attempting to dissolve Congress and rule by decree. Supporters of Castillo, a former teacher and union activist who won the election in 2021 by a narrow margin with votes from rural and Indigenous people, say right wing opponents blocked efforts by Castillo's government to address the political crisis, instead seeking to maintain their hold on political and economic power. It's a status quo characterized by high levels of inequality that impact rural communities, Indigenous people and women disproportionately.
To date, the new government has rejected calls by protesters for a constitutional assembly, for Dina Boluarte to step down and for an election to be called.
Freedom of expression and peaceful protest under attack
Everyone has the right to freedom of expression and peaceful protest. This is enshrined in the Universal Declaration of Human Rights and the International Covenant on Civil and Political Rights, as well as Inter-American human rights standards. In Peru, those rights are under deadly attack.
The protests that began in response to the arrest of then-President Castillo have been met with lethal force by the police and the army.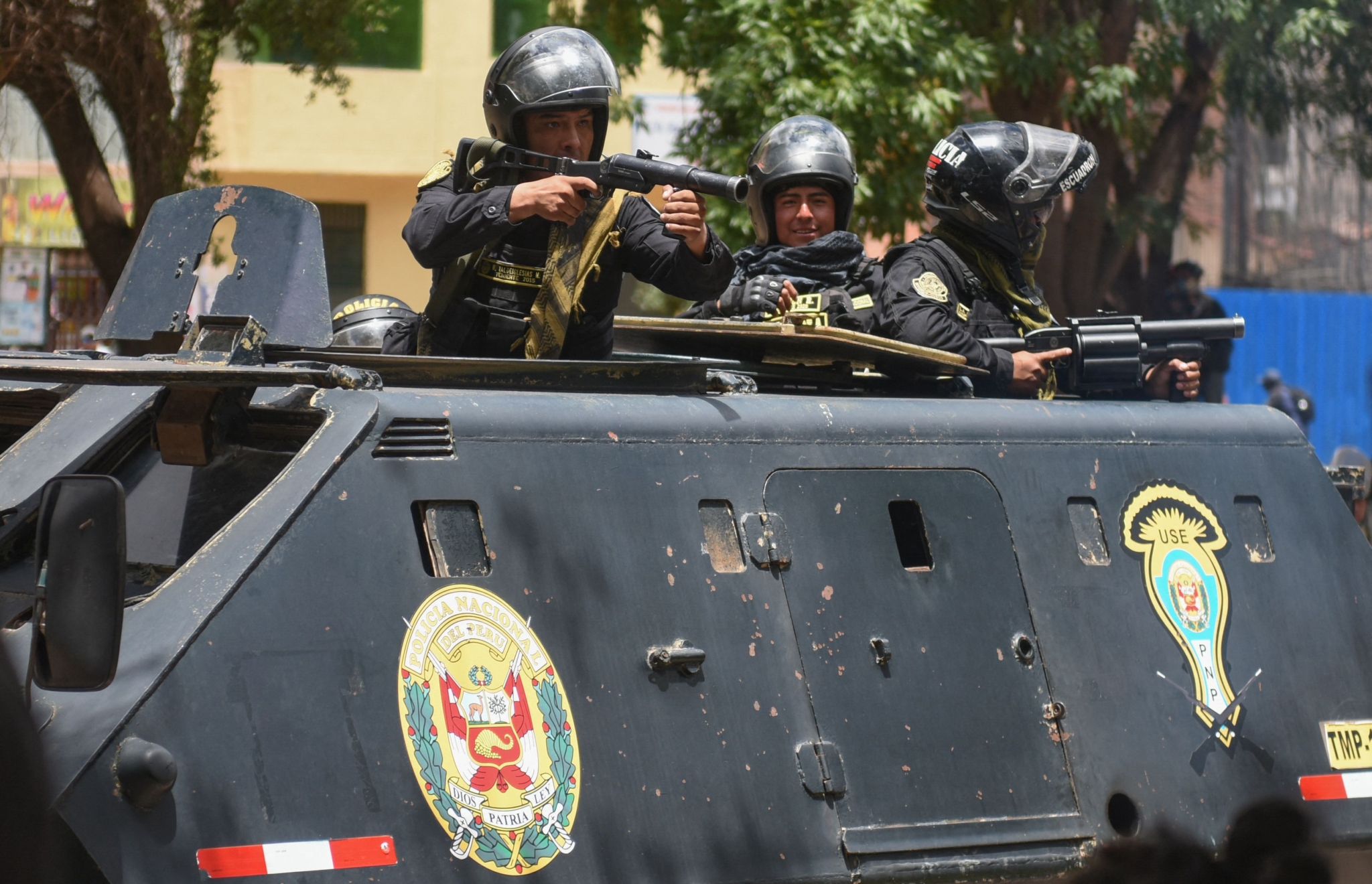 At least 46 demonstrators and one police officer have died during the repression of protests and nine more people have lost their lives in events linked to the social crisis in the country, according to Peru's Ombudsman's Office. Some of these victims were minors and most were from historically marginalized rural communities and Indigenous people. More than 900 civilians have been wounded, many of them from gunshots. Hundreds of police have also been injured. On 9 January 2023 alone, 18 people died during repression of protests in the city of Juliaca, in the largely Indigenous Puno region. The toll of the bloodshed has only increased since then, igniting further indignation, protests and violence.
Amnesty International is deeply concerned about the role played by dangerous, stigmatizing public statements by Peruvian authorities about people from historically marginalized rural communities and Indigenous people who are peacefully taking to the streets to voice legitimate discontent, falsely accusing them of being terrorists and criminals. Such an accusation resurrects memories of horrendous human rights violations committed against civilian non-combatants in the name of the war on terror in the 1980s, during years of armed conflict between the Government of Peru and the Shining Path guerrilla group. This legacy explains the chant heard during protests in Lima on January 19: "We are citizens, not terrorists!"
Amnesty International is equally troubled by evidence of excessive use of force by the National Police and the Armed Forces against protesters, which violates international human rights standards. This includes shooting tear gas from helicopters with indiscriminate impact on all people in the vicinity; police shooting directly at the upper body; shooting pellet guns at close range, with lethal consequences; shooting at people when they had their hands raised, were running away and presented no risk to security officers. In addition, local journalists have reported being assaulted and stripped of their equipment by the police. Images of a violent police raid on the university in San Marcos on January 21 are further shocking visual evidence of ongoing police brutality.
Human rights defenders in Peru tell us international pressure is vital to prevent further loss of life.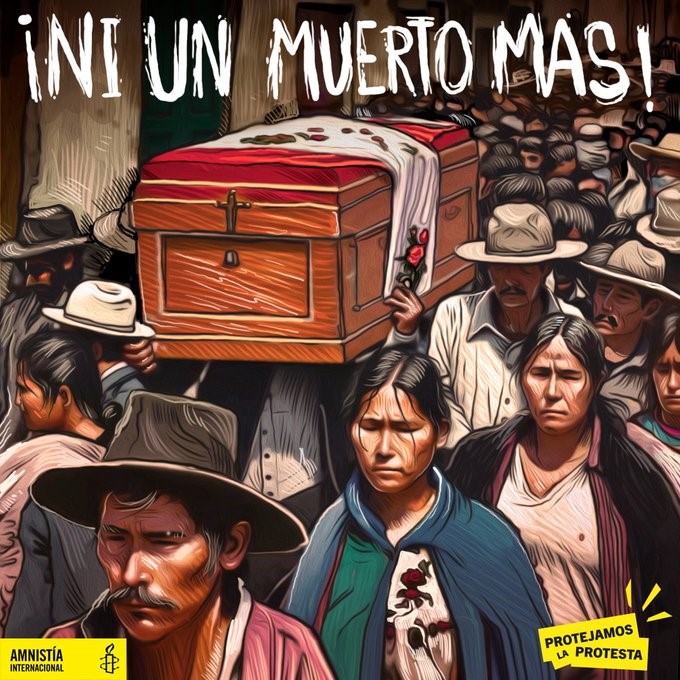 E-Action to Peru's Government
It only takes a minute to send an email message to the Peruvian government via this online platform. The message calls for an end to violent repression of protests and instead for peaceful solutions to the political crisis, centered around human rights. You can personalize this message. Already more than 8,000 Amnesty Canada supporters have sent this call for action. Please help us increase that number – and increase pressure for peaceful solutions.
Print Petition
We have created a print petition for tabling at events. Download the petition here Collect signatures and send the petition back to the address on it.
Write a letter to Canada's Foreign Minister
Canada and Peru's "multi-faceted and growing bilateral relations are marked by a commitment to democracy", says Global Affairs Canada. Canada has a free trade agreement with Peru. Canadian foreign direct investment in Peru totalled $12.7 billion in 2021, mainly in mining, oil and gas and financial services. This means Canada has both leverage and an obligation to speak up for the protection of human rights.
Urge Canada's Foreign Affairs Minister Mélanie Joly to ensure Canada is an outspoken voice for protection of the right to peaceful protest and freedom of expression in Peru, calling on the Peruvian government to:
Immediately end excessive use of force by the police and army against demonstrators.
Safeguard the life and integrity of all injured persons, guarantee immediate, timely and adequate medical attention, and provide support to the families of the deceased.
Launch prompt, thorough, independent and impartial investigations into allegations of human rights violations, ensuring that those responsible are brought to justice and remedy is provided to victims.
Put human rights at the heart of peaceful solutions to the crisis, implementing substantial, structural changes to end the marginalization, racism and discrimination experienced in rural and Indigenous communities so that all people in Peru can enjoy their human rights and live in dignity.
Send your letter to:
Hon Mélanie Joly
Minister of Foreign Affairs
Global Affairs Canada
125 Sussex Drive, Ottawa, ON K1A 0G2
Email: Melanie.Joly@international.gc.ca
Social Media
Government authorities care about their image on social media. Write a sign in Spanish and English that says: SOS PERU – No More Deaths! – Ní Una Muerte Más! – Ní Un Muerto Más – Protect the Protest – Protejamos la Protesta (see below).
Take a photo holding the sign. Post your photo on social media, with a message like the one in the sample tweet below. Be sure to use the hashtags #SOSPeru #ProtectTheProtest #NíUnMuertoMás #ProtejamosLaProtesta. Also be sure to tag Peru's President @presidenciaperu, Canada's Foreign Affairs Minister @melaniejoly, Canada's Ambassador in Peru @louiscmarcotte @CanadaPeru and Peru's Embassy in Canada @PeruEnCanada. Send to @AmnestyNow @AmnistiaPeru and @KPriceAmnesty for retweets
We invite you to click here to retweet the message below.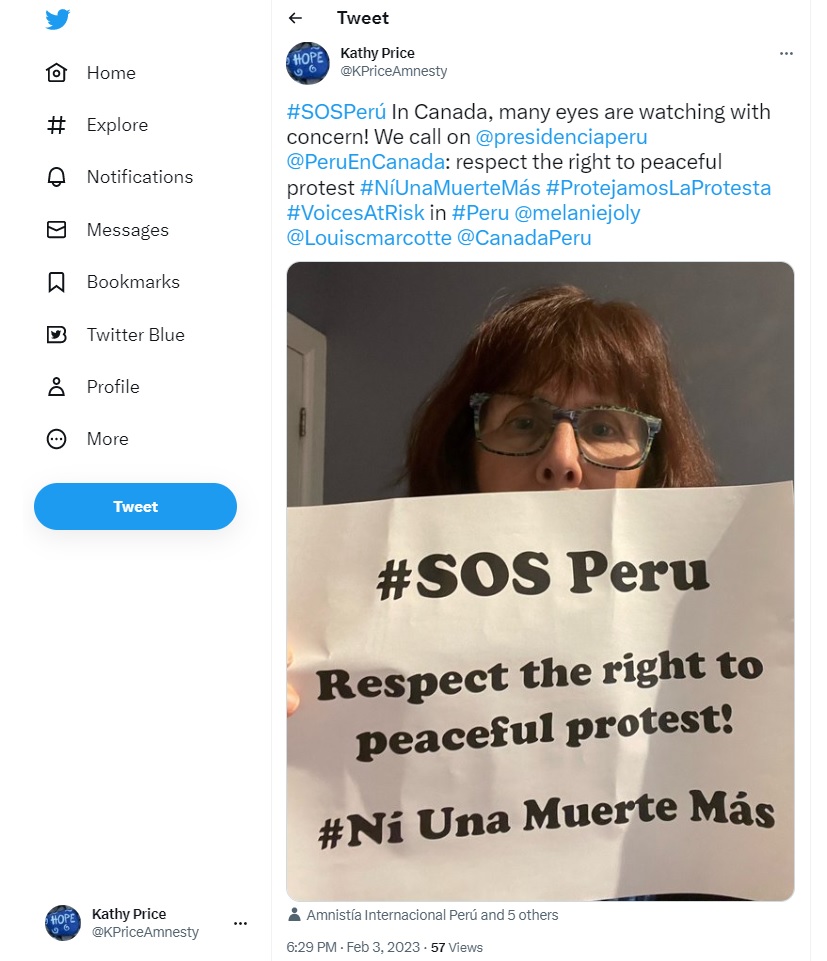 Learn More
Read Amnesty statements regarding the crisis in Peru. Check back here later in February for the findings of our specialized crisis response team that is currently visiting different regions of Peru where people were killed in the context of the protests.
Note: According to international standards, force should not be used except when strictly necessary, in a proportional manner and for a legitimate purpose, which should then be subject to a process of accountability. In situations of violence, security forces must individualize the response to those responsible for generating disturbances or endangering the life and integrity of others. A protest does not lose its peaceful character because of sporadic acts or unlawful behavior by some individuals. Respect for and protection of the human rights of those who demonstrate peacefully must not be diminished.