Amnesty International is a democratic organization dedicated to effective use of financial and people resources to meet our human rights goals.


At the international level, the members of the Board of Directors – known as the International Board (IB) – provide guidance and leadership for the Amnesty International movement worldwide.
Every year, a Global Assembly is convened, where representatives of each section come together to discuss strategies, policies, vote on IB members, and share ideas and knowledge to guide the international movement.
There are over 80 Amnesty International offices worldwide. In Canada, we have two branches – the English-Speaking one with its main office in Ottawa, and the Francophone Branch located in Montreal.
The English-Speaking Branch is guided by our Board. The Board is made up of 10 people elected by our national membership. The work of the Board ranges from setting policies to approving the operational plans and the budget for Amnesty Canada's work each year and ensuring that international decisions are implemented at the national level. Board members are a dynamic group of people committed to human rights for all and driven to make Amnesty an ever-stronger voice, both within Canada and within an international context.
In Canada, Amnesty members participate in our Annual General Meeting where they are able to bring forward and vote on resolutions that give direction to the Branch's work and shape policies, vote for members of our Board, and vote for the ICM delegates.

Meet the Board of Directors
Amnesty International Canada's Board of Directors is made up of 10 elected members who volunteer their time to oversee our strategic direction and financial management, maintain strong links with the international movement of Amnesty International, and provide leadership and guidance in advancing our human rights work.
Members of the Board are happy to respond to questions about the governance of Amnesty Canada. Click here to contact the Board of Directors.
---
Mohamed Huque, Chair

Mohamed has spent his entire career advancing social change, from grassroots organizations to global charities. He is presently the Director, Community Impact at Toronto Foundation where he mobilizes the organization's vast philanthropic resources towards equity-driven priorities.
Previously, he was a strategy consultant advising some of the world's leading NGOs on projects ranging from supporting LGBTQ+ groups in the Global South to establishing women-led co-operatives in rural Sudan. As a former nonprofit executive, he's also led an advocacy organization to develop Canada's first national reading strategy and a frontline social service agency that supports low-income communities. At the heart of all his work has been a commitment to justice and equity to ensure those closest to any social problem are centred when designing solutions.
In 2015, he was selected to be an Ariane de Rothschild Fellow at the University of Cambridge, specializing in social entrepreneurship. Beyond Amnesty, he serves on the board of the Inspirit Foundation dedicated to promote pluralism in Canada.
Sarah Damberger, Vice Chair
Sarah has been involved with Amnesty Canada for more than a decade in a variety of volunteer, staff, and leadership roles. Based in Calgary, AB, she joined the organization in 2009 as a student activist and eventually hired part time after graduating as a Southern Alberta Organizer. Sarah then moved into the role of Local Organizer and joined the Fieldworker program before being elected to the Board in 2016. During her time on the Board, Sarah has been involved in several committees and liaison roles, including the Finance and Audit, Board Evaluation, AGM Planning and Evaluation committees and serving as youth liaison for the Board.
Sarah works as a change management consultant specializing in organizational design and transformation, stakeholder engagement, and communications planning. Sarah holds a Bachelor of Arts Honours degree in Communications Studies from the University of Calgary and is an active UCalgary alumna. She currently serves as a UCalgary Senator and volunteers with the Alumni Board and Faculty of Arts.
Tarra Vicckies, Treasurer
Working as a professional accountant (CPA CGA) in her hometown of Ottawa, Canada on the Algonquin Anishinaabeg lands, Tara has over 20 years of experience in various sectors and industries, including operating her own businesses. Through this varied work experience, she's come to embrace the principles of 'best practices' and that employee satisfaction is at the essence of how successful organizations are run. With 9 years of Board experience with local not-for-profit organizations, she is most interested in supporting health care, education and inclusive community. Tara sees her work as an accountant as a supporting role — taking care of the organization's fundamentals of policy, procedures, processes and solid financials — ensuring resources are available to support the work with as few impediments as possible. As a long-time supporter of Amnesty, Tara was involved in organizing the first local Amnesty Yoga Marathon in 2006 and continued to be involved until it eventually became a national event in 2012.
Sarah Koch-Schulte, Director
Based in Toronto, Sarah began her involvement with Amnesty in New York City in 2007. She has served in a variety of capacities from a staff role as Senior Major Gift Officer participating on the team leading campaigns focused on prisoners of conscience, to her current volunteer role as a Board Director. Sarah has collaborated with Amnesty leaders and activists from 20 sections around the globe and organized Amnesty projects involving CNN, Kerry Kennedy, Stephen King, Lincoln Center, Politico, Sotheby's, Gloria Steinem, Sting, and Cornel West. Sarah sits on numerous committees aimed at strengthening Amnesty's policies and strategies in Canada (English). She believes that Amnesty's 400,000 activists, members and supporters in Canada are key.
Sarah has two decades of experience in human rights research and fundraising. She co-authored the book "Can Anyone Hear Us? Voices from 47 Countries" (Oxford University Press). Raised on a family farm on Treaty 1 territory in Manitoba, Sarah strives to be a friend to the Indigenous community on Turtle Island. Sarah has designated Amnesty for a planned gift in her estate and encourages others to consider a current or planned gift.
Agapi Gessesse, Director
Agapi Gessesse is an Award-winning change maker who was named a 2020 top Black woman to watch in Canada. Born and raised in Toronto to a refugee mother, Agapi's commitment to mentoring marginalized youth stems from her lived experience, and belief in community development.
Agapi has captivated audiences on local and national stages as a commentator on anti-black racism, workforce development and youth engagement.
Agapi Gessesse serves as the Executive Director of CEE Centre for Young Black Professionals, and lives in Toronto.
Accomplishments:
2020 TOP BLACK WOMAN IN CANADA
2019 DIAL MOVER IN TECH- DIAL MOVERS
2019 MAYTREE FELLOW – MAYTREE POLICY SCHOOL
Leanne Flett-Kruger, Director
Leanne is Cree Métis. As a trailblazer for Indigenous women in the investment industry, Leanne became a licensed stockbroker and played an instrumental role in opening the first brokerage firm on a First Nation Indian reserve in Westbank First Nation in BC.
With extensive experience in Investment and First Nations Trust Development and Management, Leanne speaks at conferences such as the National Aboriginal Trust Officers Association, the Aboriginal Financial Officers Association, and the Pacific Business Law Institute.
As Director of Indigenous Services at Jarislowsky Fraser Global Investment Management (JFL), Leanne works for First Nations and Indigenous peoples across Canada. Prior to joining JFL, Leanne provided Indigenous Trust and Investment Services and worked as Investment & Wealth Advisor for Brokerage firms. She holds a diploma in Community Economic Development from Simon Fraser University.
Leanne is a member of the Federation of Aboriginal Foster Parents and is most proud of her children. She is grateful to have had the opportunity to be a foster parent to Indigenous children.
Bruce McIvor, Director
Dr. Bruce McIvor, lawyer and historian, is a partner at First Peoples Law LLP, a law firm dedicated to defending and advancing Indigenous People's inherent and constitutionally protected title, rights and treaty rights. His work includes both litigation and negotiation on behalf of Indigenous Peoples. Bruce is recognized nationally and internationally as a leading practitioner of Aboriginal law in Canada.
Bruce is dedicated to public education. He is an Adjunct Professor at the University of British Columbia's Allard School of Law where he teaches the constitutional law of Aboriginal and Treaty rights. His collection of essays entitled Standoff: Why Reconciliation Fails Indigenous People and How to Fix It will be published in the fall of 2021 by Harbour Publishing.
Bruce holds a law degree, a Ph.D. in environmental history and is a Fulbright Scholar. His great-grandparents took Métis scrip at Red River in Manitoba. He is a member of the Manitoba Métis Federation.
Geneviève Thériault-Lachance, Director
Geneviève Thériault-Lachance is a lawyer based in Quebec that specializes in corporate accountability. She is particularly interested in corporate's ethics and the connection between corruption and human rights violations. She worked for several years in London for an organization that sought to bring justice to victims of corporate abuses in sub-Saharan Africa. Prior to leaving for London, she practiced as a trial lawyer in Montreal. She appeared regularly before the highest provincial and federal courts. She also acted as a legal consultant for the Inter-American Commission on Human Rights (IACHR), where she drafted applications on behalf of victims and amicus curiae brief to ensure the protection of the rule of law in impeachment procedures in Latin America.
Geneviève has a Master of Laws (LLM), with distinction, from London University College (UCL), where she was the sole recipient of the Sir Frederick Pollock scholarship. She regularly writes legal blogs for the legal publisher Éditions Yvon Blais of Thomson Reuters, is a founding trustee of Publish What You Pay (PWYP) UK and a board member of the Quebec Human Rights League.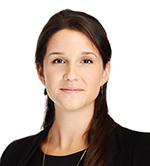 Elaheh Sajadi, Director
Elaheh has been volunteering with Amnesty since 2014, supporting the organization's growth in many different capacities. She has written countless letters, marched for missing rights defenders, organized activism events, and facilitated conversations about Amnesty's past, present, and future.
As one of the original members of the National Organizers program and the National Youth Action and Advisory Committee, she has and continues to work with incredible youth across Canada to further Amnesty's prerogatives and ensure youth can mobilize and advocate on issues that warrant their passion.
In addition to her experiences at Amnesty, she has a background in fundraising and development. She has worked as a Fundraising Leader at Public Outreach, a Special Events Clerk for SickKids Foundation and currently works at Human Rights Watch Canada where she supports the office in its development and outreach efforts.
Elaheh holds an Honours Bachelor of Arts degree double majoring in Human Rights and Criminology. She is also attending the Lincoln Alexander School of Law, working towards her goal of becoming an international human rights lawyer.
Laurin Liu, Director
Laurin Liu was a Canadian Member of Parliament between 2011-2015 and served as the youngest female Parliamentarian in Canadian history. While in office, she served as deputy critic for Environment, Science and Technology and International Trade and tabled multiple bills, including Bill C-409, for the automatic enrolment in the guaranteed income supplement for low-income seniors and Bill C-620, to expand health and safety protections for interns in federally regulated industries. She also pushed for a responsible and ethical foreign policy on various Parliamentary committees, including action on climate change, stopping the use of cluster munitions and arms exports to repressive governments, and ensuring the inclusion of human rights and environmental protections in trade deals.
For years, she has also worked for international philanthropies and NGOs, where she has played a behind-the-scenes role in strategic communications, supporting activists defending basic rights around the world and campaigns for international justice and accountability.
She holds a master's degree in human rights from the London School of Economics. Raised in Montreal, Quebec, she speaks English and French.
Staff Leadership
Ketty Nivyabandi, Secretary General
Ketty Nivyabandi is a human rights defender and a passionate advocate for social justice. She was forced to flee her home as a result of her activism in May 2015, after she mobilized and successfully led women peaceful protests in her home country, Burundi.
As a refugee and human rights defender, she has testified before the Canadian House of Commons Sub-Committee on International Human Rights on ongoing human rights violations in her country, particularly against women. She regularly speaks on refugee issues, democracy and human rights –with a particular focus on women human rights defenders– and the effects of conflict on women's intimate lives. She was a founding member of Burundi's Women and Girls Movement for Peace and Security, a strong apolitical voice ensuring women have a front seat at the peacemaking table.
Ketty studied International Relations, is a former journalist and a published poet.
Frida Kruijt – Interim Executive Director
Frida started as our Interim Executive Director on the 31st of May 2021. She brings over 20 years of global expertise as Director, Manager and Strategic Advisor for international non-governmental organizations and the Amnesty movement. Until now she was the Director for Movement Engagement for the Americas for the International Secretariat of Amnesty International, based in Mexico City.
Frida brings a unique combination of outstanding organizational management skills on one-hand and feminist, anti-oppressive and inclusive leadership on the other. She has achieved deep organizational change throughout her career, with specific expertise in Latin America, the Caribbean, West Africa, Western Europe and the Iberian Peninsula. Her strengths are in building innovative strategies, organizational culture and movement growth for impact in complex, matrix-managed and global organizations. Frida excels at inspiring and motivating teams to perform and deliver, while leading with empathy.
Frida is also not new to this unique role, she acted as Interim Executive Director at Amnesty Portugal where she successfully worked to make the organization more fit for purpose, impactful and locally relevant. She comes fully abreast of the challenges we face and is deeply committed to support a bold, impactful, inclusive, and anti-racist vision for the section.
Frida and her wife Margarita have 11-year old twins, two cats and a dog and are keen feminists and LGBTIQ+ activists.
Directors
Gordon Mair, Director of Finance and Administration
Gordon Mair has been the Branch's Director of Finance and Administration since March 2008 after holding similar positions with Sierra Club Canada, CARE International in Zambia, the Secretariat of the Pacific Community in New Caledonia, and the Inter-American Institute for Cooperation on Agriculture in Costa Rica. Previously he had worked for Forestry Canada and for the Office of the Auditor General.
Gordon has overall responsibility for the financial management of the Branch, including the preparation of financial statements, monitoring of revenue and expenses, risk management, health and safety, and liaison with auditors. He and his team carry out all of the financial functions for the Branch and the administrative functions related to the National Office.
He has a Bachelor of Commerce degree from Carleton University and a CMA designation.
.
Rosemary Oliver, Director of Fundraising
Rosemary Oliver joined Amnesty International Canada as Director of Fundraising in August 1999, after seven years as the Fundraising Director for Greenpeace Canada and five years on fundraising staff at Oxfam. She manages Amnesty Canada's Fundraising Team whose members carry out programs in monthly giving, legacy gifts, major donors, direct mail, digital, telemarketing and face-to-face fundraising.
In addition to her fundraising efforts for Amnesty Canada, Rosemary was an active member of Amnesty's global Fundraising Management Team for six years until 2015 and worked briefly as the monthly giving coordinator for Amnesty USA.
Rosemary enjoys sharing her passion for fundraising with others in the sector, and has spoken frequently at the Association of Fundraising Professionals Congress and Fundraising Day in Toronto, the International AFP Conference in the US (most recently in Boston, 2016), and at the International Fundraising Congress in the Netherlands.
Rosemary graduated from McGill University with a Bachelor of Arts, holds a Certificate in Fund Raising Management from Humber College, and earned her professional CFRE designation (Certified Fundraising Executive) in 1991.
.
Ihsaan Gardee, Director of Programs and Communications
Ihsaan Gardee joined as the Director of Programs and Communications in November 2019. Prior to this, Ihsaan served for ten years as Executive Director of the National Council of Canadian Muslims (NCCM), an Ottawa-based national non-profit human rights and civil liberties advocacy organization. During his time there he worked on a number of high profile cases and files including in coalitions with partners such as Amnesty. Ihsaan has regularly appeared on local and national news media & programs on issues related to Canadian Muslims, Islam, and civil liberties and his writings have appeared in major Canadian dailies as well as international publications. He has also spoken at numerous Canadian and global forums and conferences on public policy matters. In his professional capacity, Ihsaan has provided expert testimony to several Parliamentary and Senate committees on how proposed legislation, including national security laws, could adversely impact civil liberties and diverse communities. Ihsaan has addressed diverse audiences including youth and the young-at-heart on topics such as tackling Islamophobia, media engagement & advocacy.
A graduate of the University of Windsor and the University of Western Ontario, Ihsaan currently serves as the Director of Programs & Communications Amnesty International Canada – English section (AICES). In this role, he works with both the Communications and Programs team to help set priorities, develop long-terms strategic goals, annual plans, and budgets for campaigning by the organization on a variety of international and domestic human rights issues. In addition to this, he leads on the organization's strategies for growing its base of members and supporters.
.
Meet the members of the 2020-2022 National Youth Action and Advisory Committee
The National Youth Action and Advisory Committee (NYAAC) is a national youth body that takes action on youth mobilization in addition to advising Amnesty International Canada English-Speaking (AICES)'s members, leaders and staff on youth participation in various aspects of human rights work including governance, campaigns and activism.
Members of NYAAC are happy to respond to questions about their work with Amnesty Canada.Please contact us here.
Roshni Khemraj (she/her), Co-Chair
Roshni is a third year student at Osgoode Hall Law School and co-chair of the NYAAC. She currently lives in the traditional territories of the Haudenosauneega, Mississaugas of the Credit First Nation and Anishinabewaki peoples, colonially known as Markham. Through her 6 years of involvement with Amnesty, along with being employed by the federal government to develop an initiative that investigates behaviours and attitudes perpetuating gender inequality and supports action for system change, Roshni has developed a strong passion for migrant justice, law reform work and developing strategies to further youth, gender and racial inclusion. In her last year on the NYAAC, she excited to see the Youth Portal grow and to plant the seed for further inclusive and accessible opportunities for youth in campaigns, activism and leadership.
Cassandra DeFreitas (she/her), Co-Chair
Cass is a final year Social Work and Human Rights & Equity Studies student at York University and is completing her social work placement with Oxfam Canada in the Policy and Campaigns department. Cass has been involved with Amnesty International Canada for over 4 years, serving in multiple positions, and has had the honour of working and learning alongside other organizations, including, Plan International Canada, Experiences Canada, the Canadian Centre for Global Health Security and Diplomacy, and the Canadian Council for Refugees. Within her activism, research, and practice, Cass is exceptionally passionate about critically analyzing systematic issues through a trauma-informed, anti-oppressive, and feminist lens. Cassandra has a particular interest in identifying barriers to access, especially within a globalized health context. She is currently completing a research inquiry on gender-based violence, gender inequality and COVID-19. Fun fact: Cass has an irrational fear of seashells and her favourite TV show character is the one and only: Leslie Knope.
Fatima Beydoun (she/her)
Fatima is in her fourth year at Dalhousie University on the un-ceded surrendered Mi'kmaq territory of Halifax (K'jipuktuk), where she also hails from. She is currently pursuing a double major in Sustainability and International Development Studies with a minor in French. Fatima was first introduced to Amnesty International Canada in Grade 11 when she attended a workshop in Halifax and has been actively involved with the organization ever since, starting as a youth organizer and acting currently as the Co-president of the Amnesty Club at Dalhousie. Entering her third year on the NYAAC as the only Maritimer, Fatima is able to incorporate her passions of youth empowerment and human rights while working alongside others to advocate for more equitable systems on the local and global scales. Having had the opportunity to speak in the House of Commons, she is involved with environmental, migrant and racial justice work on campus and in the community. Her active involvement in student leadership is vast, where she currently sits on the Board of Dalhousie University as a student representative and is a founding member of the Black, Indigenous, People of Colour Caucus (BIPOCUS) at Dalhousie. When she is not organizing, she can be found watching aesthetic cafe videos, practicing cello, and spending time with her friends and family.
Aidan Sander (he/him)
Aidan is a first-year student with the QuARMS (Queen's university Accelerated Route to Medical School) program at Queen's University in Kingston, ON. Aidan first became involved with Amnesty International through the 2017 Human Rights College for Youth. Since then, Aidan has become more involved within the organization. In addition to being a member of the NYAAC, Aidan also serves as a member of the Strategic Goals Advisory Committee, where he helps to guide the engagement process to develop Global and AICES strategic goals. Aside from Amnesty International, Aidan has served various advisory roles within his greater community. He has served as a member of the City of Lethbridge Youth Council, where he has contributed to the development of a more inclusive community for all. Additionally, as a member the National Youth Advisory Committee for the RCMP, Aidan has helped to guide future policies by the government regarding law enforcement and discussed issues of victimization and discrimination within our justice system.
Anjali Choudhary (she/her)
Anjali Choudhary is a passionate human rights advocate, writer, and student in her first year of her Bachelor of Arts degree in Law and Society at the University of Calgary. Anjali has been involved with Amnesty since the age of 14 at various levels and has tremendously grown her passion for advocacy work. In her third term on the NYAAC, she hopes to grow her work with digital activism and is committed to promoting inclusivity and accessibility within all levels. Outside of Amnesty, she also works to actively support and engage in her community through volunteer, research and written work with provincial and community organizations, university engagement and her newspaper column. Anjali aims to build a career around her passion for human rights advocacy, hoping to empower others and set a positive example for youth engagement in activism and governance.
Anam Rashid (she/her)
Anam Rashid is an activist and student at the University of Toronto studying International Development Studies and Critical Migration Studies, currently living on the traditional territory of Mississaugas of the Credit, the Anishnabeg, the Chippewa, the Haudenosaunee and the Wendat peoples. She is committed to supporting and engaging in initiatives that promote quality education, healthier communities and gender equality, both locally and globally. Her passion has led her to work with organizations including Yellow Brick House, and more recently, Right To Play and Refugee Girls Worldwide.
Brandon Hayashi (he/him)
Brandon is a graduate from TRU with a Bachelor of Science majoring in Cellular, Molecular, and Microbial Biology. He resides in Kamloops on the traditional and unceded territory of the Tk'emlups te Secwepemc within Secwepemc'ulucw. Having run multiple BC campaigns as a student, including a student refugee program referendum at TRU and banning conversion therapy across the province, he hopes to transfer his expertise to empower youth through the NYAAC.
Hannah Ahamedi (she/her)
Hannah is an activist, researcher and adventurer who currently lives on the traditional territory of the Mississaugas of the Credit, the Anishnabeg, the Chippewa, the Haudenosaunee, and the Wendat peoples. She attends the University of Toronto and studies Peace, Conflict, and Justice at the Munk School of Global Affairs and Public Policy. During her spare time, Hannah enjoys reading sci-fi novels and hunting for new coffee shops around the city of Toronto.
Shantel Watson (she/her)
Shantel Watson serves as the Board Strategies Liaison for the 2020-2022 NYAAC cohort. She is also a member of the AI Toronto Business and Human Rights Group, the AI Canada National Organizers Program and served as a youth member of the AI Canada 2020 Global Assembly Delegation. Through my role I will commit myself to the removal of barriers to youth engagement and leadership.
Shriya Shah (she/her)
Shriya Shah is a Grade 12 student at the University of Toronto Schools, currently living on the traditional territory of the Anishinabek, Huron-Wendat, Haudenosaunee (Iroquois), Ojibway/Chippewa peoples. She has a passion for making institutional human rights change in her community, and is a member of AI Canada's National Youth Action and Advisory Committee (NYAAC). She is currently a student researcher with the Global Labor Justice Institute, and has worked on a documentary that highlights the intersectionality of human rights and fast fashion. She is the founder of the UTS AI Chapter, and is a TEDx speaker on the privilege of movement. She aims to pursue human rights law, while empowering youth to grow as leaders and activists.