Owning a private car is a huge expense for many people, yet due to lack of other options, many people feel stuck in their cars. Compounding matters, for over half a century, government policy has been geared towards highway and road expansion, resulting in higher greenhouse gas pollution, more private and transport vehicle traffic, and worsening health and safety issues. The global pandemic and the climate crisis have brought us to a tipping point: people want better, cleaner mobility options for getting around our communities that don't deepen existing inequalities.
We know that when more space is allocated to public transit lanes, protected bike lanes, and space for walking, traffic evaporates. A variety of travel options for people on the move equates to fewer cars, healthier, cooler, more inclusive and more pleasant cities and towns.
Plus, walking, cycling and rolling options – in addition to better public transit – throughout urban and suburban areas would relieve a huge financial burden for many people. Young people and recent immigrants would not have to bear the financial burden of buying and operating their own car to get to work or access post-secondary education.
Some North American communities, like Front and Centered in Washington State, are working with their communities and elected officials to develop a Transportation Bill of Rights on the need to transition justly from fossil fuels to clean public transit for everyone – and that puts people at the centre.
We think this a great idea.
In British Columbia, the BC government's new CleanBC Roadmap envisions a 25 percent reduction in light-duty vehicle traffic by 2030 compared to 2020.
We think this is achievable. And a great idea!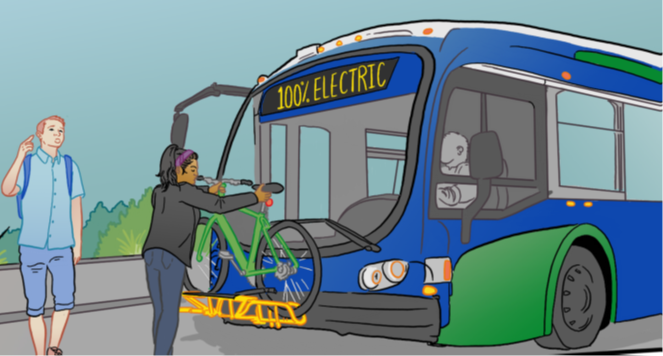 Following the smashing success of our popular comic book on rechargeable batteries and human rights, we're publishing a new comic with Petroglyph Studios this June. Get ready to order your free copy!
Follow our characters Andy and Samira as they fight back against an expensive highway expansion that threatens the health and wellbeing of their community. Learn how they work with others around the globe to create neighborhoods where everyone can live, buy groceries, go to work, and enjoy the benefits of a healthy environment.
This comic is part of our human rights education series on energy transition and climate justice and supports the launch of our forthcoming new report on energy transition batteries in September 2022.
Take Action
Resources