Canada's federal election comes at a time when the grave inequalities and injustices in this country have never been more exposed. As we head into the final stretch of the election, Canadians are faced with an important question: what kind of society do we want?
Canada continues its steep climb out of a pandemic that has particularly affected Black, immigrant and low-income women working on the frontlines of Covid-19. Refugee claimants are facing more difficulties as the Canada-US border remains closed to asylum-seekers. Indigenous communities continue to be disproportionately impacted by the violence of colonialism, non-respect of treaties, persisting inequalities in access to water, healthcare and education, in addition to the climate crisis, facing raging wildfires, flooding, and food shortages. .
The pandemic has also shown us that we can do things differently. Canada released a significant number of immigration detainees to help reduce the spread of Covid-19, proving that alternatives to detention are possible. Migrant workers on the frontlines of the pandemic are courageously speaking out to demand the protections they deserve.
It has never been more urgent to centre human rights and build a future based on justice and dignity for everyone in Canada.
That's why between now and the election, we encourage you to contact the candidates in your riding. Ask them how their parties will support human rights. We will send you some quick actions to help you reach candidates, focused on three urgent human rights issues: Indigenous rights, climate justice, and immigration detention.
Meanwhile, you can find ways to act now with our election action guide >>>

VISIT THE ELECTION ACTION GUIDE

You can also be part of the conversation during tonight's English-language federal leaders' debate! Details for where you can watch them are here. If you use Twitter, be sure to follow @AmnestyNow where we will be live-tweeting tonight's debate.
Thank you for all you do in support of human rights in Canada and around the world, and for helping to ensure that human rights are at the heart of this election.
In solidarity,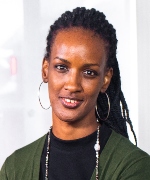 Ketty Nivyabandi
Secretary General
Amnesty International Canada