A delegation from Amnesty International Canada attended Canada's Universal Periodic Review (UPR) at the United Nations in Geneva on Friday.
A total of 124 states made recommendations to Canada, largely on the rights of Indigenous Peoples, violence against Indigenous women, systemic racism, and the rights of Indigenous children, among other concerns.
Canada's presentation – which celebrated its progress on Indigenous rights but acknowledged that more must be done – took place while Wet'suwet'en land defenders are being tried in court for advocating against the Coastal GasLink pipeline being built through their territory without their free, prior, and informed consent.
Although Canada's presentation to the UN Human Rights Council expressed a strong commitment to fully realize the rights of Indigenous Peoples, it overlooked serious, ongoing failures surrounding the principle of free, prior, and informed consent (FPIC), the current crisis of Missing and Murdered Indigenous Women, Girls, and 2SLGBTQIA+ people, and climate justice, Amnesty International said after the hearing.
Canada criticized at United Nations for criminalization of Wet'suwet'en land defenders
"Right now, while Canada paints a rosy picture for dignitaries here in Geneva, it is unfairly prosecuting Wet'suwet'en land defenders for protecting our rights, our territory, and the natural environment we all depend on to live," said Chief Na'moks, of the Wet'suwet'en Hereditary Chiefs, who accompanied Amnesty International Canada's delegation to the UPR. "The appalling human rights abuses and treatment of our people must be brought to the world's attention, and Canada's reputation as a fair and just country must be challenged."
In a series of raids since early 2019, the Royal Canadian Mounted Police (RCMP) have unjustly arrested and detained more than 80 people, including land defenders, Wet'suwet'en Hereditary Chiefs and matriarchs, legal observers, and members of the media. During these offensives, the Wet'suwet'en Nation reported that RCMP forces, armed with military-style assault weapons, helicopters, and dog units, operated alongside Coastal GasLink and its private-security company to bulldoze and burn down buildings and desecrate ceremonial spaces.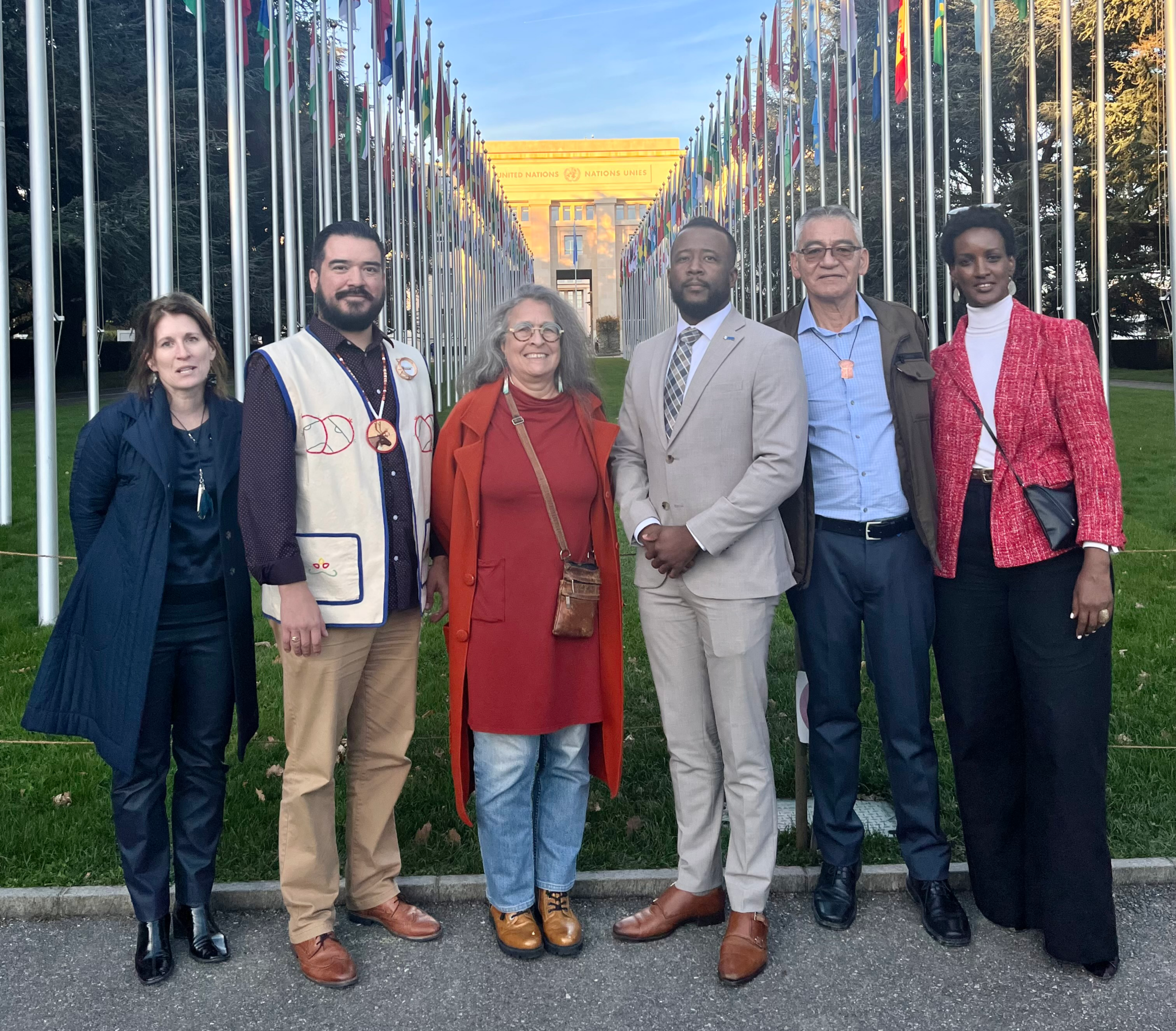 In addition, about a half dozen people still face criminal charges for exercising their right to defend the Wet'suwet'en Nation's unceded traditional territory. The Nation has called for the charges to be dropped and for pipeline construction on Wet'suwet'en territory to halt until the Nation gives its free, prior, and informed consent to the project.
"In its report, Canada affirms that its relations with all cultural communities are ideal, and that the rights of all are respected. Our presence in Geneva is one of the concrete actions carried on the international stage to tell the truth about Indigenous realities, with a view to First Nations' self-determination," declared Jérôme Bacon Saint-Onge, Vice-Chief of the Pessamit Innu Council. "Unfortunately, First Nations have a front-row seat to see that this is not the case. We call on Canadian leaders to publicly acknowledge their shortcomings and give First Nations the control over their destiny to which they are entitled. At Canada's UPR hearing in Geneva, the recommendations of certain United Nations states were crystal clear on this subject."
Ketty Nivyabandi, Secretary General of Amnesty International Canada's English-speaking section, acknowledged that Canada's recently announced action plan toward implementing the United Nations Declaration on the Rights of Indigenous Peoples is a step in the right direction. However, the plan will remain fundamentally flawed until Canada stops criminalizing Indigenous land defenders and finally respects Indigenous Nations' right to free, prior, and informed consent to infrastructure and resource-extraction projects that affect their territories.
"To be held up as a human rights leader internationally, Canada cannot pick and choose which Indigenous rights to respect," said Nivyabandi. "Canada's human rights record, and the future of its reconciliation efforts with Indigenous Peoples, depends on its willingness to honour all of its legal and international obligations, including the principles laid out in the United Nations Declaration on the Rights of Indigenous Peoples."
Impact on efforts to mitigate climate change
Canada's failures on Indigenous rights threaten efforts to curtail the worst impacts of climate change, noted France-Isabelle Langlois, Executive Director of Amnistie internationale Canada francophone. "Even after its most devastating wildfire season on record, Canada continues to build fossil-fuel pipelines and criminalize Indigenous land defenders who oppose them. It is time to listen to the people and Nations who are on the front lines of climate change and whose rights, traditions, and wellbeing will be harmed the most if we don't urgently shift away from burning fossil fuels."
Beyond Canada's failures on Indigenous rights and climate justice, many of Canada's other efforts to improve its human rights records fell short since its last UPR. Nicholas Marcus Thompson, Executive Director of the Black Class Action Secretariat, accompanied the Amnesty International Canada delegation, speaking to the systemic discrimination endured over decades by Black workers – especially Black women workers – in the federal public service.
"Canada's limited implementation of human rights recommendations reflects a concerning gap between commitment and action, urging a re-evaluation of its approach to the Universal Periodic Review for a more robust safeguarding of human rights," Thompson said.
Overall, Amnesty International's own analysis found that Canada has fully implemented only five of the nearly 200 recommendations it received during the third cycle of the UPR.
"Canada can start righting the ship now by developing and implementing a transparent mechanism to gauge whether the human rights commitments it makes in Geneva have been met. Canada's international reputation – along with its relationships with Indigenous Nations and efforts to mitigate climate change – requires a new, rigorous, and more compassionate approach," Nivyabandi said.
New commitments to ratify human rights protocols against torture, violence against women
Finally, Amnesty welcomes the commitments made by Canada before the Human Rights Council on Friday to ratify the Optional Protocol to the Convention against Torture and Other Cruel, Inhuman or Degrading Treatment or Punishment, the International Convention for the Protection of All Persons from Enforced Disappearance, and the Inter-American Convention on the Prevention, Punishment, and Eradication of Violence against Women.
"If Canada respects these commitments and ratifies these international instruments with due diligence, it will then have to comply with and implement them. Amnesty International will be there to work with the government to ensure their effective implementation," Langlois said.
Header photo: Arif Virani, Canada's Minister of Justice, addresses the UN Human Rights Council in Geneva on November 10, 2023 (United Nations TV/UN Human Rights Council).