The Canadian company Ivanhoe Mines compromised the human rights of hundreds of people in the Democratic Republic of Congo (DRC) who were evicted to make way for the expansion of a sprawling copper-mining complex in the country's south, a new report has found.
The report, issued jointly by Amnesty International and the Initiative pour la Bonne Gouvernance et les Droits Humains (IBGDH), focuses on the impacts of the expansion of copper and cobalt mining on human rights in the DRC. In Powering Change or Business as Usual?, researchers detail how the scramble by multinational companies to expand mining operations in has led to the forced eviction of entire communities and grievous human rights abuses, including sexual assault, arson and beatings. In response, Amnesty International and IBGDH are calling for an immediate, nationwide moratorium on forced evictions connected to the country's mining sector.
Allegations against the Vancouver-based firm Ivanhoe Mines include the treatment of dozens of families evicted in 2017 to accommodate the development of the Kakula copper mine. In 2016, the Kamoa Copper mining company — in which Ivanhoe owns a 39.6% stake — identified 45 households across a 21-square-kilometre area for relocation. The company promised to build 45 resettlement houses in the town of Muvunda at its own expense.
Hundreds evicted, given substandard housing to make way for mine expansion
Unfortunately, the living conditions the families encountered in 2017 after their eviction fell short of international human rights standards and contravened DRC law. "Researchers observed that substitute houses Kamoa built in Muvunda are not equipped with running water, electricity, or connected to any sewage system," the report's authors wrote. "Many reported that at the time of the eviction, resettlement houses were too small for their family sizes."
'Any plans to expand the Kamoa complex must respect DRC residents' rights under the country's constitution and international law. Anything less is unacceptable.'

Ketty Nivyabandi, Secretary General, Amnesty International Canada
"Kamoa's parent companies, including Ivanhoe mines, have a duty to bring the replacement houses in Muvumba up to international standards," said Ketty Nivyabandi, Secretary General of Amnesty International Canada's English-speaking section, echoing a call to action outlined in the Powering Change report.
"In addition, any plans to expand the Kamoa complex must respect DRC residents' rights under the country's constitution and international law. Anything less is unacceptable."
The UN's Basic Principles and Guidelines on Development-based Evictions and Displacement stipulates that relocation sites must satisfy the criteria for adequate housing under international human rights law. These criteria include, among other basic amenities, access to potable water, energy for heating and cooking, washing and sanitation facilities, and education, health and childcare services. Moreover, these provisions must be secured before a relocation occurs.
Skin rashes, vaginal infections because of polluted water
In the case of the families evicted by Kamoa Copper, the community's only source of drinking water for many months was a single borehole shared by 4,000 people. Interviewees said the borehole would break down for months at a time and they would have to repair it at their own expense, relying in the meantime on the polluted Mulunguishi River for drinking and sanitation. A group of women resettled in Muvunda told researchers they experienced skin rashes and vaginal infections after using nearby water streams. Meanwhile, Kamoa Copper built comparatively luxurious housing for employees and contractors stationed at the Kakula mine.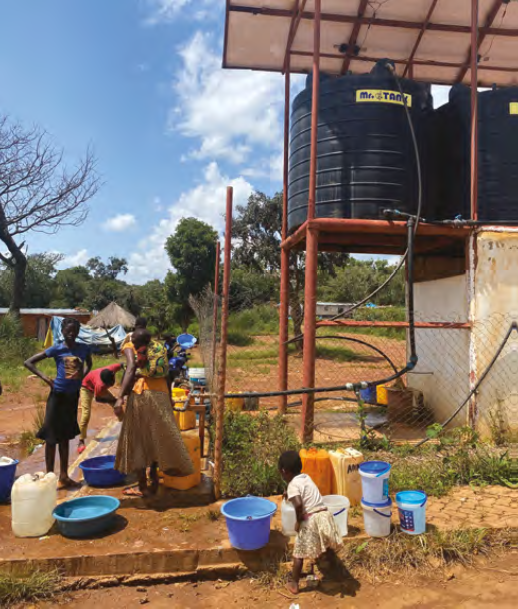 Ivanhoe's human rights failures in the DRC reinforce the urgent need for the federal government to enact rigorous legislation regulating the conduct of Canadian mining companies and other enterprises operating overseas, Nivyabandi said.
"In the rush to build a green economy, Canadian companies must not trample over the lives and livelihoods of anyone they perceive to stand in their way. We must ensure that affected communities have access to accountability and justice when their rights are under threat."
Mining companies must respect human rights in the DRC: Amnesty International
Growing demand for clean-energy technologies has created a corresponding demand for certain metals, including copper, and cobalt, which is essential for making most lithium-ion batteries. These are used to power a wide range of devices including electric cars and mobile phones. The DRC has the world's largest reserves of cobalt, and the seventh-largest reserves of copper.
"The forced evictions taking place as companies seek to expand industrial-scale copper and cobalt mining projects are wrecking lives and must stop now," said Agnès Callamard, Amnesty International's global Secretary General.
"Amnesty International recognizes the vital function of rechargeable batteries in the energy transition from fossil fuels. But climate justice demands a just transition. Decarbonizing the global economy must not lead to further human rights violations."
Donat Kambola, president of IBGDH, said: "People are being forcibly evicted, or threatened or intimidated into leaving their homes, or misled into consenting to derisory settlements. Often there was no grievance mechanism, accountability, or access to justice."
Candy Ofime and Jean-Mobert Senga, Amnesty International researchers and co-authors of the report, said: "We found repeated breaches of legal safeguards prescribed in international human rights law and standards, and national legislation, as well as blatant disregard for the UN's Guiding Principles on Business and Human Rights."
Researchers interviewed 130 people at six mining sites
To produce Powering Change or Business as Usual?, Amnesty International and IBGDH interviewed more than 130 people at six different mining projects in and around the city of Kolwezi, in the southern province of Lualaba, during two separate visits in 2022.
Researchers reviewed documents and correspondence, photographs, videos, satellite images and company responses. Responses from the companies named in the report can be accessed here.