Write a letter to call for the release of a courageous prisoner of conscience
Virginia Laparra is a 42-year-old Doctor of Law and mother of two who was working as an anti-corruption prosecutor in Guatemala. She was arrested in February 2022 on invented charges, denied a fair trial, unlawfully convicted and sentenced in late 2022 to four years in jail. At the same time, Virginia was also targeted with a misogynistic, violent smear campaign. It was orchestrated anonymously through net centres in social media and not so anonymously by men aligned with powerful interests that benefit from impunity.
Amnesty has declared Virginia Laparra to be a prisoner of conscience, jailed in retaliation for challenging corrupt structures, maintaining her independence as a prosecutor and refusing to bow to pressure. We are calling on the authorities to immediately and unconditionally release her. We are also calling for immediate access to emergency surgery to attend to serious health issues that Virginia is suffering.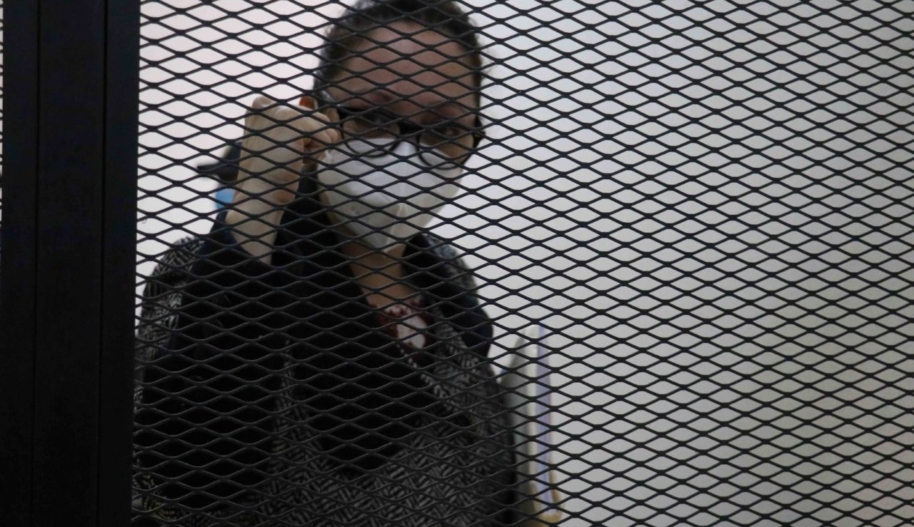 Dr. Laparra has been working as a prosecutor since 2006. Due to her merits and excellence, she was regularly promoted, and in 2016, she was appointed head of the Special Prosecutor's Unit Against Impunity (known by its acronym, FECI, Fiscalía Especial contra la Impunidad) in Quetzaltenango. This Unit, created in 2006, has been courageously investigating corruption and other forms of large-scale criminality operating in Guatemalan institutions.
In 2018, as part of her work, Virginia initiated proceedings against a judge because he had leaked confidential information about a case of judicial corruption. In retaliation, the judge filed criminal charges against Virginia. She was arrested and wrongfully convicted on the basis of these false accusations.
The unjust conviction and imprisonment of Virginia Laparra is an emblematic example of a disturbing pattern of criminalization and attacks on judges and prosecutors involved in anti-corruption efforts and the fight against impunity in Guatemala.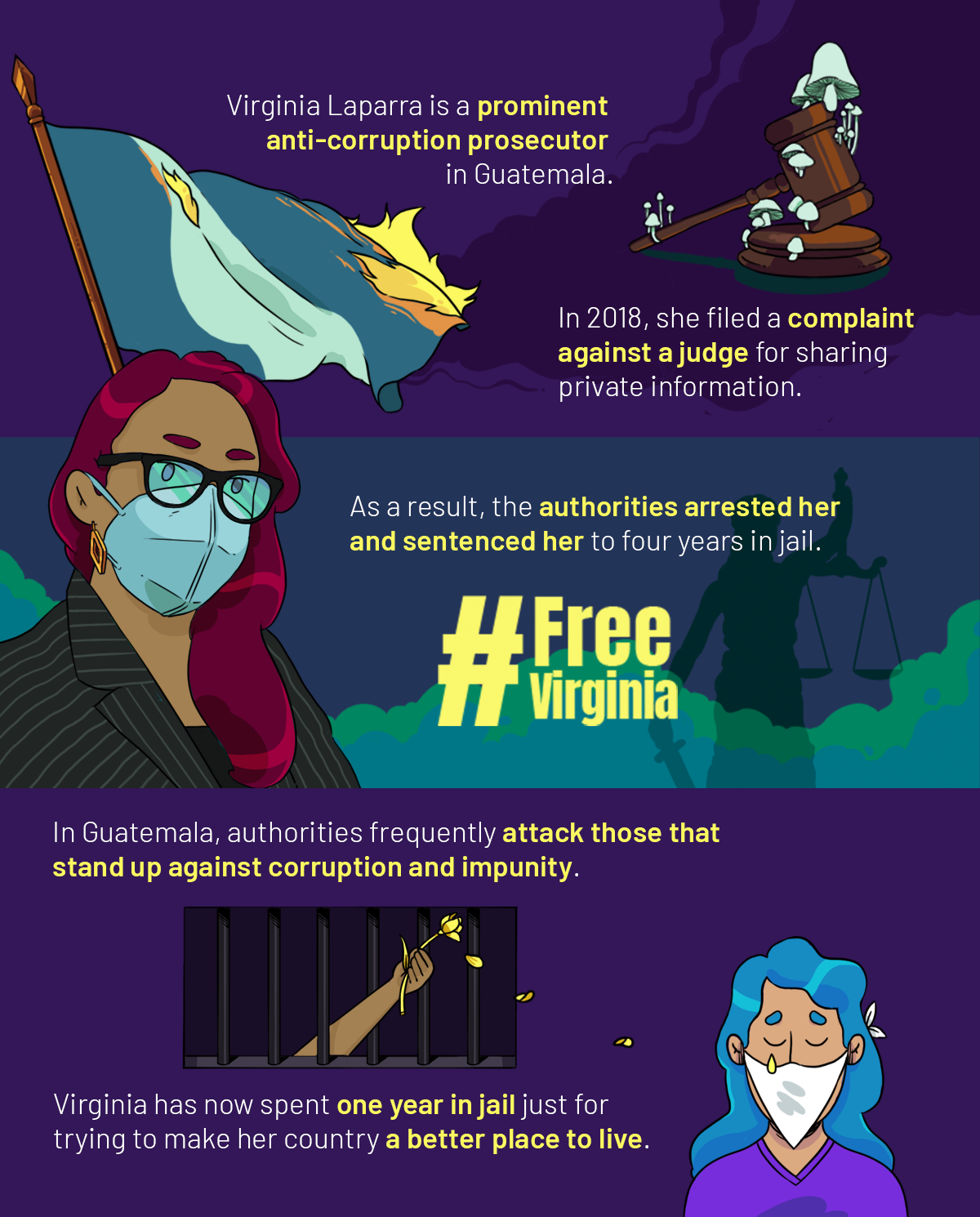 TAKE ACTION
Write to Guatemala's Attorney General, urging her to:
Drop all charges against Virginia Laparra because she has committed no crime.
Ensure her immediate and unconditional release.
Provide immediate access to emergency surgery to treat the serious health issues that Virginia is experiencing.
Write to:
María Consuelo Parras Agueta, Attorney General and Chief of the Prosecutor's Office
Salutation: Dear Mrs. Attorney General/Estimada señora Fiscal General
E-mail: aapineda@mp.gob.gt, with copies to secretariageneral@mp.gob.gt and embassy1@embaguate-canada.com
Twitter: @MPguatemala
If you are mailing your letter, please mail it to Guatemala's Ambassador in Canada for delivery to the Attorney General:
Mailing Address: Her Excellency Ambassador Guisela Atalida Godinez Sazo, Embassy of the Republic of Guatemala, 130 Albert Street, Suite 1010, Ottawa, ON K1P 5G4
Additional Information
The criminalization of Virginia Laparra has been pursued by groups seeking to delegitimize important institutions in the fight against impunity and corruption in Guatemala, including the Special Prosecutor's Unit against Impunity (FECI) that Virginia headed. These groups have publicly stated on multiple occasions that all judges and prosecutors who have led the fight against impunity and corruption must be imprisoned and that they will not rest until they have done so.
Justice is literally under attack in Guatemala, reversing advances and hope that had been achieved in recent years.
The International Commission against Impunity in Guatemala (CICIG) was created in 2007 under the auspices of the United Nations to investigate and bring to justice criminal groups, public officials and political leaders operating outside the law, amid high levels of corruption and violence. Working with FECI and the Public Prosecutor's Office , CICIG managed to identify more than 60 criminal structures operating in State institutions. Between 2007 and 2018, CICIG and FECI presented more than 100 cases.
Upset by these achievements in the fight against impunity, certain political and economic elites and sectors impacted by the investigations of FECI and CICIG undertook measures to systematically hinder their work. They also attacked those who had promoted the strengthening of the justice system. In 2019, the government terminated CICIG's mandate and expelled international staff, leaving FECI alone at the forefront of the fight against corruption and impunity. Amnesty International warned of setbacks in justice and human rights in Last Chance for Justice.
Since then, Amnesty International and other international and Guatemalan human rights organizations have observed how magistrates, judges, prosecutors and lawyers involved in key cases have faced increasing attacks in retaliation for the work. International human rights bodies and experts have also expressed multiple concerns over the rise of attacks on the independence of judges, prosecutors and lawyers.
Guatemalan authorities are failing to protect them from constant intimidation, surveillance, threats and smear campaigns on social media and in the media designed to discredit their work. Authorities are also actively involved in the use of unfounded criminal proceedings against them, like in the case of Virginia Laparra. For instance, the former-chief of FECI, Juan Francisco Sandoval (Virginia's former manager) is facing more than 60 proceeding that were initiated by the same groups unhappy about what he was doing. Sandoval and others involved in the administration of justice were forced to leave the country. Other judges and prosecutors were recently dismissed or suspended. Proceedings continue against Virginia, other prosecutors and former CICIG workers still in Guatemala.
For more information, contact Latin America campaigner Kathy Price via kprice@amnesty.ca