As of August 2021, around 85% of the world's COVID-19 vaccines had gone to wealthy countries while low-income countries had received less than 1%. Recognizing the deep injustice of this situation, several Amnesty International Canada National Organizers came together to work on the issue.
We decided to organize an online event to raise awareness about the importance of vaccine equity. At the event, we were lucky to have been joined by Hilary Homes, the Crisis and Tactical Advisor at Amnesty International Canada, who delivered a presentation on the basics of vaccine inequity, why the topic is important and relevant for Canadians, and what actions pharmaceutical companies and wealthy nations can take to eliminate the issue.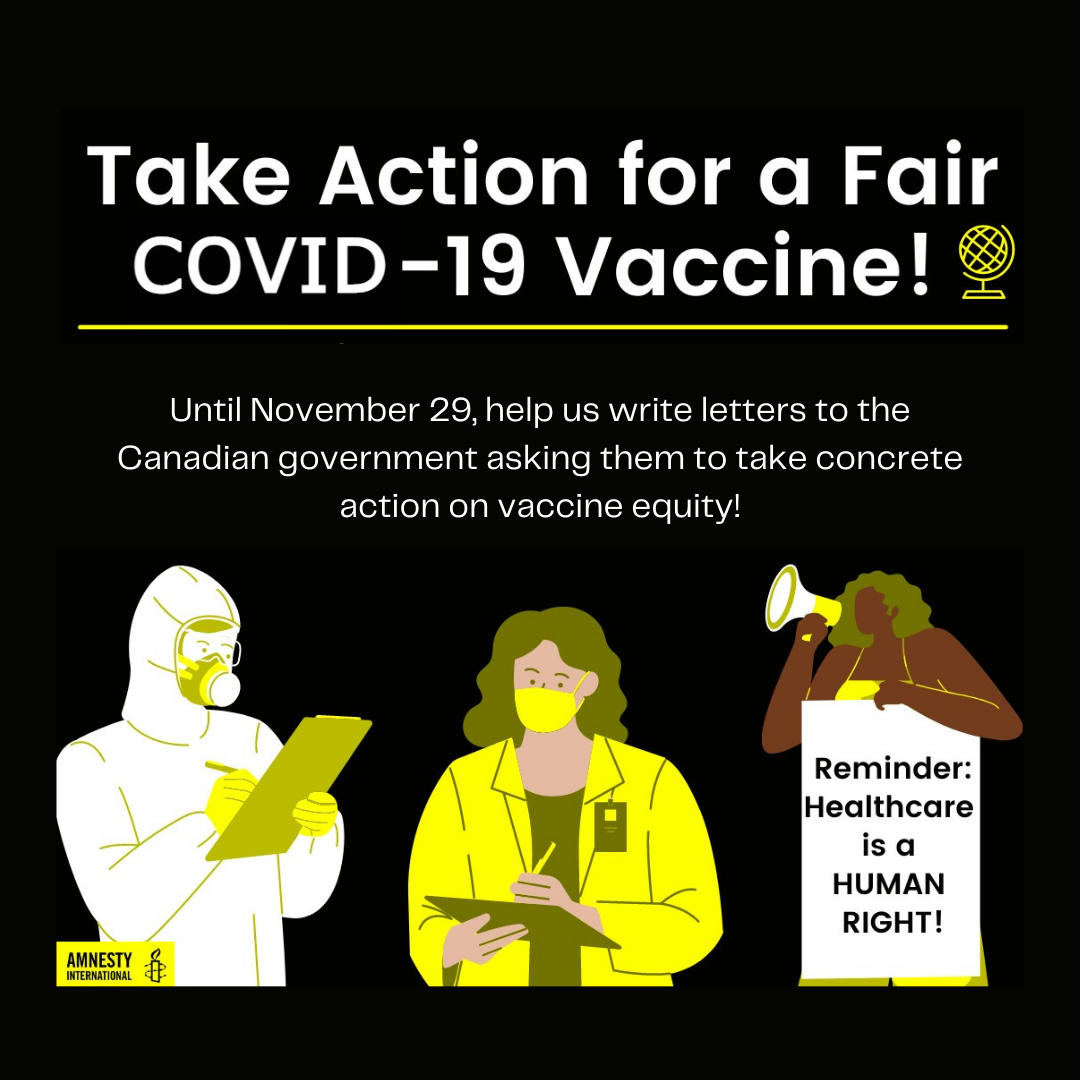 Canada has been neutral on many decisions that would ease global access to COVID-19 vaccines.
For this reason, the second half of our event focused on taking action, with participants having the opportunity to help in demanding a fair COVID-19 vaccine through letter-writing. In breakout rooms, AI National Organizers shared with participants the pre-made letter template we had drafted, where they could sign the letter as is, add something to what was already written, or edit it as much as they pleased.
However, the action did not stop once the event ended. In fact, the event also served as the launch of our national letter-writing campaign to call on the federal government of Canada to advocate for a more equitable vaccine distribution worldwide. More specifically, we called on the federal government to take on two actions:
Fully support the temporary waiver of the World Health Organization TRIPS Agreement, which would ensure that intellectual property rights do not impede global access to COVID-19 health products.
Amend the Canada Access to Medicines Regime (CAMR) by adding COVID-19 to Schedule 1 of the Patent Act, so as to enable Canadian manufacturing and export of COVID-19 health products.
Temporarily waiving the WHO Trade-Related Aspects of Intellectual Property Rights (TRIPS) Agreement would help ensure an equitable and global public health response to COVID-19. This provision would allow World Health Organization member states to legally increase manufacturing on COVID-19 vaccines, diagnostics, and therapeutics by temporarily waiving the intellectual property on those products until the end of the pandemic. This would therefore allow for an increased production of COVID-19 vaccines and for lower-income countries to better access doses to inoculate their citizens. While Canada claims to not oppose the waiver, it has not supported it either.
Moreover, the Canada Access to Medicines Regime (CAMR) program is a system where a foreign government and a Canadian company can make a request to manufacture and export a medicine. Under this program, the federal government can waive patent rights and allow other generic-producing companies in Canada to start production of COVID-19 vaccines, allowing for more manufacturing of COVID-19 vaccines that can be distributed worldwide to lower income countries.
If Canada implemented these actions, they could serve as an example to other wealthy nations and contribute significantly to a more equitable COVID-19 vaccine distribution.
From the date of the event to November 26, we shared our letter template to other Amnesty chapters, groups, and campus clubs across Canada to get more support with our campaign. Notably, we had 2 university Amnesty groups from the University of Toronto and the University of Calgary organize vaccine equity letter-writing events around our letter template, which were significant contributions to our campaign. The Grandmothers Advocacy Network also participated and sent an outstanding number of letters.
As of November 26, we had close to 200 letters printed and sent to Prime Minister Justin Trudeau.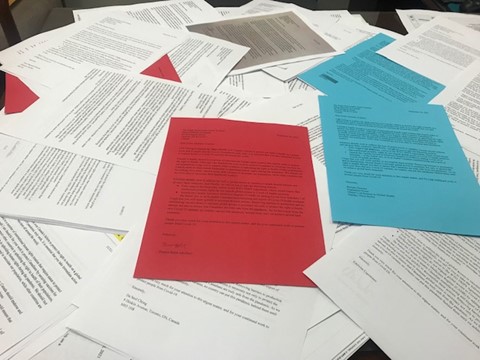 More than 1.2 billion additional people in low and lower-middle income countries can be vaccinated by the end of 2021 if rich countries and pharmaceutical companies agree to distribute the doses more fairly.
If you would like to learn more about this, check out Amnesty International's 100 Day Countdown campaign. You can also take action on vaccine equity by signing Amnesty's petition calling on pharmaceutical companies to do their part in ending this pandemic by sharing their work so that more vaccines can be produced faster and distributed more equitably.
We feel fortunate to have access to vaccines, and we are motivated by the belief that a person's' right to health should not be dependent on where they live. We can only hope the federal government will take action on vaccine equity by the end of 2021. If not, we can guarantee our advocacy for this issue will not finish by the end of the year either. As the rise of more COVID-19 variants have shown us, in a global pandemic, no one is safe until everyone is safe.
From the organizing team: Trisha-mae Capistrano, Anneka Spice, Aroni Nur Ahmed, Rojina Haji-Mahmoodzadeh, Elaheh Sajadi, Avreet Jagdev, Ian Meng, Rana Abdelhalim