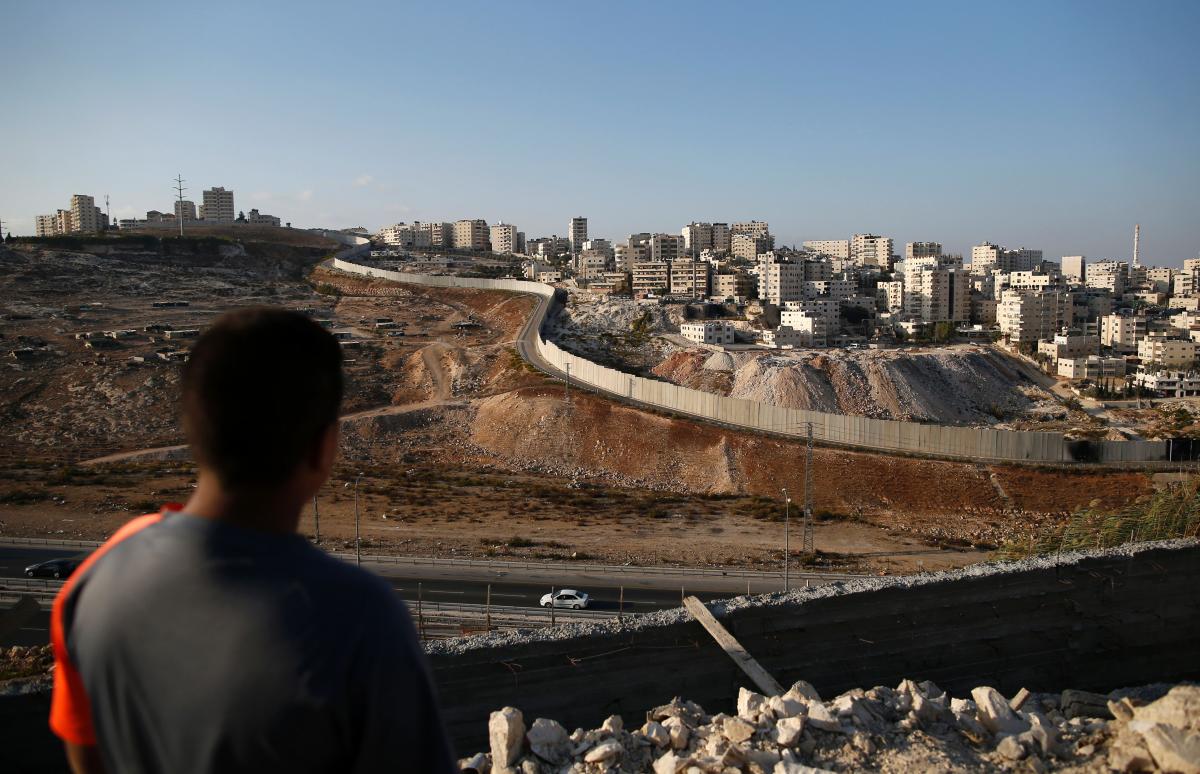 We are witnessing horror unfolding on an unimaginable scale in Israel and the Occupied Palestinian Territories.
The unparalleled escalation of the conflict between Israel and Hamas and other armed groups has taken a devastating toll on civilians. The level of casualties is unprecedented. Countless lives have been shattered, ripped apart, and upended.
Civilian deaths in Gaza continue to rise at a staggering rate amid relentless Israeli bombardment, in response to the horrific attacks on October 7, 2023 in Israel by Hamas and other armed groups that resulted in 1,400 people killed and the abduction of civilians. More than a third of casualties in Gaza are children and countless bodies are still trapped beneath the rubble. Millions more face further displacement, dispossession and suffering.
At least 200 Israeli hostages taken by Hamas and other armed groups and held in Gaza remain in danger, and ongoing indiscriminate rocket fire into Israel places civilians at risk. 
Amnesty International continues to closely monitor the human rights and humanitarian catastrophe in the Gaza Strip since October 7, 2023. Israel security forces and Palestinian armed groups must make every effort to protect the lives of civilians after the outbreak of fighting in Israel, the West Bank and Gaza.
Protect Civilians
DEMAND A CEASeFIRE BY ALL PARTIES
Urge Canada and the international community to call for an immediate ceasefire and put an end to the ongoing humanitarian catastrophe in Gaza.
***TOOLKIT FOR ACTION***
What you will find below:
Amnesty's calls for action
Letter writing to Canada & Israel
Online censorship and what to do about it
Protecting the Right to Protest
Solidarity Actions
How the laws of war apply
The latest Open Letters, News & Updates
Further background including Israel's system of Apartheid
What Amnesty International is calling for
An immediate ceasefire by all parties in the occupied Gaza Strip and Israel.
An immediate end to unlawful attacks, including indiscriminate attacks, direct attacks on civilians and civilian objects, and disproportionate attacks by all parties.
Israel to immediately allow unimpeded delivery of humanitarian aid into the occupied Gaza Strip's civilians, lift its 16-year illegal blockade on Gaza, and grant immediate access to the Independent Commission of Inquiry on the Occupied Palestinian Territory.
The immediate restoration of internet and telecommunications infrastructure in the Gaza Strip, to allow rescue operations amidst Israeli pounding airstrikes and expanding ground operations.
Hamas and all other armed groups to unconditionally and immediately release all civilian hostages and to treat all those being held captive humanely, including by providing medical treatment, pending their release.
Israel to release all arbitrarily detained Palestinians.
A comprehensive arms embargo on all parties to the conflict in light of the serious violations amounting to crimes under international law currently being committed.
The International Criminal Court's ongoing investigation into the situation of Palestine to proceed and to receive full support and all necessary resources.
The international community to address the root causes of this violence, with utmost urgency.
What you can do to help
Contact the Prime Minister and your Member of Parliament and urge them to press the Canadian government to support an immediate and sustained ceasefire by all parties and other measures to protect civilians. Download shortened PDF versions of this letter writing action and the ceasefire petition.
Call on US President Biden to support an immediate and sustained ceasefire by all parties and other measures including suspending the sale or transfer of weapons to Israel.
Write personal letters calling on Israel's Minister of Defense to rescind the evacuation order against Gaza hospitals. More information and addresses here.
Report online censorship and shadowbanning
Amnesty International is continuing to monitor instances of the wrongful blocking or removal of social media posts, as well as shadowbanning of accounts in the context of the current conflict. If you or anyone you know has experienced this, please share links and/or screenshots of the content that was flagged or removed, as well as screenshots of the original content with hello@amnesty.tech.
Support the Right to Protest
Sign up for Amnesty's online course on the Right to Protest and learn why protest is protected by human rights, how the freedom to protest is under threat throughout the world, and how you can defend your right to protest.
Learn more about your rights when protesting in Canada by checking out this guide from the Canadian Civil Liberties Association.
Take Amnesty's online course on Self care for Activists and learn how to invest in yourself as an activist. Understand the nature of burnout and vicarious trauma, and learn how to put together your own Self-Care Toolbox.
Share Amnesty's calls for action on social media and at protests
Download Amnesty branded signs and images from this folder. Remember that Amnesty has a specific role and that we do not endorse all calls by other organizations.
Act in Solidarity
Change your social media profile picture or post a photo of yourself or a group of people holding signs or placards spelling out "Ceasefire". Use hashtag #CeasefireNOW and tag @JustinTrudeau.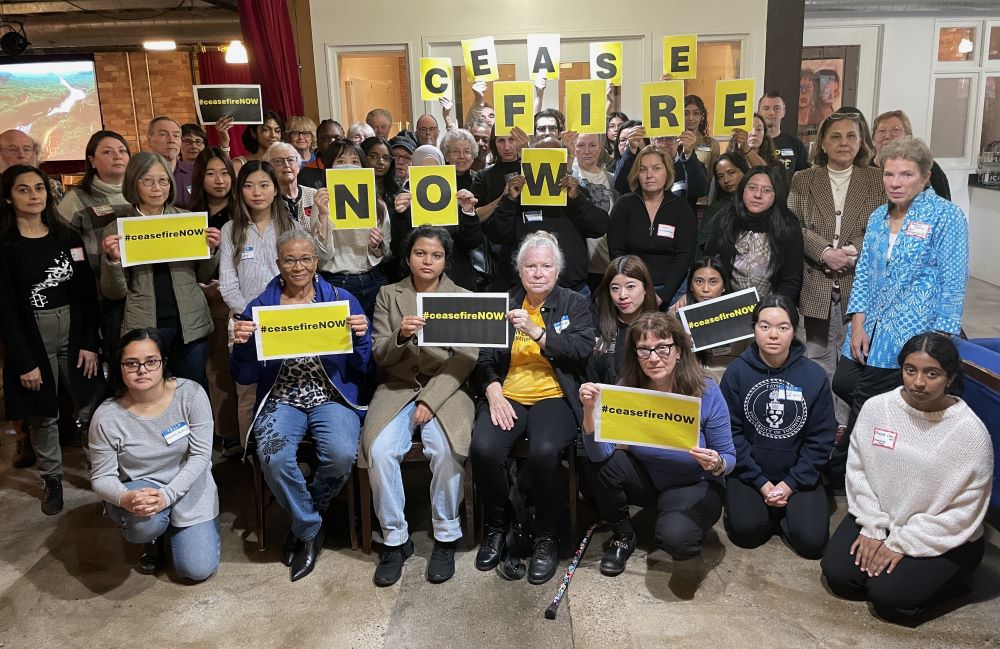 Learn more about human rights in the context of armed conflict
RIGHTS REVEALED #1: Human Rights and Armed Conflict: Even wars have laws
This looks at human rights in armed conflict and explains International Humanitarian Law (aka the "laws of war").
RIGHTS REVEALED #2: Human Rights and Armed Conflict: The escalating conflict in Israel and Gaza
This looks specifically at human rights and International Humanitarian Law in the context of the current and historical conflict in Gaza/OPT and Israel.

Read more about the current crisis
Latest updates from the UN Office of Coordination for Humanitarian Affairs (OCHA) including civilian casualties.
AMNESTY CANADA'S OPEN LETTERS
Open letter to Canadian Prime Minister Justin Trudeau on the call for an immediate ceasefire by all parties in the occupied Gaza Strip and Israel (8 Nov 2023)
Open letter to Canadian Prime Minister Justin Trudeau on human rights in Gaza (14 Oct 2023)
JOINT LETTERS
Feminist Organizations Joint Appeal for Immediate Ceasefire in Gaza (17 Nov 2023)
AMNESTY INTERNATIONAL PRESS RELEASES
Israel/OPT: US must not block UNSC resolution to demand an immediate ceasefire (7 Dec 2023)
Lebanon: Deadly Israeli attack on journalists must be investigated as a war crime (7 Dec 2023)
Israel/OPT: US-made munitions killed 43 civilians in two documented Israeli air strikes in Gaza – new investigation (5 Dec 2023)
ISRAEL/OPT: Urgent need for a sustained ceasefire to end civilian bloodshed and mass suffering as fighting resumes (1 Dec 2023)
European governments donors' discriminatory funding restrictions to Palestinian civil society risk deepening human rights crisis (28 Nov 2023)
Israel/ OPT: Deal to release hostages and prisoners must pave way for further releases and a sustained ceasefire (22 Nov 2023)
Israel/OPT: 'Nowhere safe in Gaza': Unlawful Israeli strikes illustrate callous disregard for Palestinian lives (20 Nov 2023)
Global: UNSC Resolution on 'humanitarian pauses' in Gaza presents vital opportunity to stop massive suffering (16 Nov 2023)
Israel/OPT: Another blackout in Gaza imminent if sufficient fuel is not restored (15 Nov 2023)
Israel/OPT: Amnesty petition demanding ceasefire to end civilian suffering backed by more than one million signatures (10 Nov 2023)
Peaceful protest against injustice in Israel/OPT is not a threat to security (9 Nov 2023)
States must call for an immediate ceasefire at Paris Humanitarian Conference to ensure safe delivery of aid in Gaza (8 Nov 2023)
Israel/OPT: Horrifying cases of torture and degrading treatment of Palestinian detainees amid spike in arbitrary arrests (8 Nov 2023)
Israel/OPT: Hamas and other armed groups must release civilian hostages and treat all captives humanely (7 Nov 2023)
Lebanon: Evidence of Israel's unlawful use of white phosphorus in southern Lebanon as cross-border hostilities escalate (31 Oct 2023)
Global: Social media companies must step up crisis response on Israel-Palestine as online hate and censorship proliferate (27 Oct 2023)
Israel/OPT: Urgent call for an immediate ceasefire in Gaza by all parties to end civilian suffering (26 Oct 2023)
Israel/OPT: Israeli army leaflets ordering residents of northern Gaza to leave and threatening lives may amount to war crimes (25 Oct 2023)
Damning evidence of war crimes as Israeli attacks wipe out entire families in Gaza (20 Oct 2023)
Appalling Gaza "evacuation order" must be rescinded by Israel immediately (13 Oct 2023)
Israel/OPT: Identifying the Israeli army's use of white phosphorus in Gaza (13 Oct 2023)
Palestinian armed groups must be held accountable for deliberate civilian killings, abductions and indiscriminate attacks (12 Oct 2023)
Israel/OPT: Israel must lift illegal and inhumane blockade on Gaza as power plant runs out of fuel (12 Oct 2023)
Civilians paying the price of escalating hostilities between Israel, Gaza: Amnesty International (8 Oct 2023)
Further Background on human rights in Israel and the Occupied Palestinian Territories
The root causes of these repeated cycles of violence must be addressed as a matter of urgency. This requires upholding international law and ending Israel's 16-year-long illegal blockade on Gaza, and all other aspects of Israel's system of apartheid imposed on all Palestinians. The Israeli government must refrain from inciting violence and tensions in the occupied West Bank, including East Jerusalem, especially around religious sites. Amnesty International calls on the international community to urgently intervene to protect civilians and prevent further suffering.
Since 2007, Israel has imposed an air, land and sea blockade on the Gaza Strip collectively punishing its entire population.
In 2021, the International Criminal Court opened an investigation into the situation in the State of Palestine. Its mandate includes crimes under international law committed by all parties in the current fighting, as well as the crime against humanity of apartheid against Palestinians.
Israel's system of Apartheid is a crime against humanity
In February 2022, Amnesty International released a groundbreaking report on Israel's apartheid, systemic oppression and discrimination that is a daily reality for Palestinians.
Read the executive summary, FAQ, our Letter to Prime Minister Trudeau and download a copy of the full report ISRAEL'S APARTHEID AGAINST PALESTINIANS: CRUEL SYSTEM OF DOMINATION AND CRIME AGAINST HUMANITY.
Sign up for Amnesty's 90 minute online course on Deconstructing Israel's Apartheid Against Palestinians, available in English, Arabic, French, Spanish and Hebrew.
In June 2023, Amnesty International published its investigation into the May 2023 offensive on the Gaza strip, finding that Israel had unlawfully destroyed Palestinian homes, often without military necessity in what amounts to a form of collective punishment against the civilian population.
Amnesty International is an impartial human rights organization and seeks to ensure that all parties to an armed conflict comply with international humanitarian law and international human rights law. Accordingly, in future briefings, Amnesty International will be investigating Israel's military action in the Gaza Strip to determine whether it is complying with the rules of international humanitarian law, including by taking necessary precautions to minimize harm to civilians and civilian objects and refraining from unlawful attacks and from collective punishment of the civilian population, as required under international law. Amnesty International will also continue to monitor the activities of Hamas and Palestinian armed groups.